Latest News
Centrepiece returns to The Lightbox this summer
18th June 2021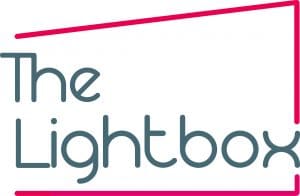 The popular annual exhibition 'Centrepiece' returns to The Lightbox gallery and museum, featuring original works of art by students from eight local schools. This year's Centrepiece project will use 'Hands of the Sculptor' by Eduardo Paolozzi as its inspiration, a modern sculpture piece from The Ingram Collection.
Since 2011, The Lightbox has worked with local schools on the 'Centrepiece' project, resulting in a show that presents the students' work. The free exhibition will be on display in the Art Fund Prize Gallery from 14 July – 15 August 2021.
'Hands of the Sculptor' by Sir Eduardo Paolozzi from The Ingram Collection
Pop Art pioneer Sir Eduardo Luigi Paolozzi CBE (1924 – 2005) was a Scottish sculptor and artist. Paolozzi created large-scale sculptures, prints and collages that transformed spaces including the British Library courtyard and the London Underground. Studying at the Slade School of Fine Art in London from 1944 to 1947, Paolozzi moved to Paris that same year becoming acquainted with Alberto Giacometti, Georges Braque and Constantin Brancusi. This period became an important influence for his later work. Over the following decades, Paolozzi enjoyed widespread success, including being knighted by Queen Elizabeth II in 1989.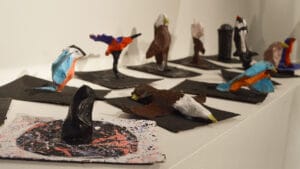 This work is an actual cast of the artist's hands. Paolozzi's hands were cast in plaster in the sculpture studio of Edinburgh College of Art in 1996. Many eminent sculptors have produced casts of their own hands because it leaves a strong visual record of the 'tools' of their profession.
Chris Ingram: "I have a number of works by Paolozzi in the collection that are particularly striking. This one is something completely different but I like it because it is of Paolozzi's hands, and therefore makes me think about the process of making. I've always admired an artist's technical ability."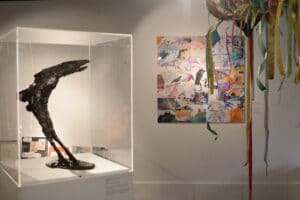 Students create original artworks inspired by 'Hands of the Sculptor'
Students from Send C of E Primary School, Cobham Free School, Westfield Primary School, Freemantles School, The Marist Catholic Primary School have all been working to create original works of art inspired by 'Hands of the Sculptor'. Each school selected students from 3 – 12 years old to participate in this educational and fun experience.
Schools attended a workshop at The Lightbox where they were able to see the sculpture up close and work with the Learning and Engagement Team to develop a piece of art based on the shape and style of the sculpture. Extra-curricular activities such as these are greatly beneficial to young people, as they allow students to come into direct contact with world-renowned works of art and explore new places outside of their traditional learning environment,
This exhibition is kindly sponsored by The Arts Society Mayford. If any schools are interested in taking part in the 2022 'Centrepiece' project, please keep an eye out on thelightbox.org.uk or contact The Lightbox Learning and Engagement Team via email at education@thelightbox.org.uk or by calling 01483 737815.