Latest News
A Guide to the Summer Holidays at The Lightbox
21st June 2021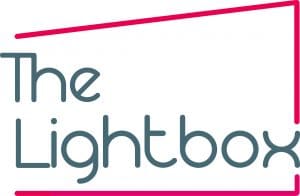 School's out and the holidays are in – but there is no reason why you can't keep those creative juices flowing all summer long. With a jam-packed schedule of arts and crafts coinciding with the 2021 Summer Olympics, there is plenty happening to keep the whole family entertained.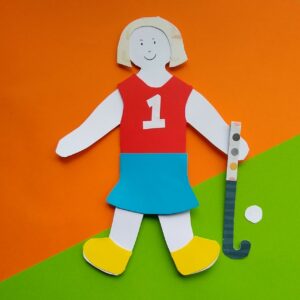 Olympic Athlete Puppets © The Lightbox 
For families, The Lightbox always offers a range of free drop-in workshops. On Friday 23 July, come along to the free Olympic Torches drop-in to celebrate the opening ceremony of the Tokyo Olympics by making your own Olympic torches. Then, on Wednesday 28 July, design Olympic Medals from a variety of papers and recycled materials. Mini Footballers, on Wednesday 11 August, will have you create your own mini football game out of paper. To complete the set, there's a chance to make your own Cup and Ball Game on Wednesday 25 August – you could even turn yours into a basketball hoop.
This year, the popular Bubble Friday workshop returns with not one, not two, but three free drop-in sessions on Friday 30 July, 13 and 27 August. Enjoy constructing a variety of bubble makers and test them out in our sunny courtyard or at home.
And there's plenty more to occupy your hands and minds in our series of bookable workshops. For 5-7 year olds, we have three different sessions. On Tuesday 27 July you will be able to make Olympic Athlete Puppets using an array of different materials. Join in our summer of sport on Tuesday 10 August to create Team Tees using fabric paints and printing ink. Please make sure to bring along a cotton t-shirt to decorate during this session. Come and make a DIY Board Game on Tuesday 24 August by creating ways to move around the board with a story or challenges along the way.
Children aged 8-11 years old can also join in on a number of workshops. On Thursday 29 July 2021, join us for Papier Mâché Sculpture to create your own papier mâché sports-themed sculpture on a wire frame. Next up, your own Ship in a Bottle on Thursday 12 August. And on Thursday 26 August bring along an image of someone you look up to so you can Learn to Draw Your Hero.
For those who simply cannot get enough, on Sunday 1 August you can bring the family along to our Studio Sundays to get hands-on and design colourful Sports Posters by exploring different materials and techniques. Make sure you book your place on the workshop for one of the two timeslots. Activities are for the whole family but may be more suitable for those aged 4+.
And that's not all, for 11 -16 year olds we are running a Young Creatives workshop where you'll be able to build your own unique cartoon character version of yourself in our Graphic Novel Masterclass. The sessions take place over two days, on Thursday 5 and Friday 6 August 2021. These sessions will introduce you to the basic tools of comics-making and a variety of comic styles so you will be able to create a six-page comic and poster.
While visiting remember to check out our range of Main and Upper Gallery exhibitions, Celebrating Michael Ayrton: A Centenary Exhibition (until 8 August 2021), NightShaking with The Ingram Collection (10 July – 19 September 2021), and later on Lines of Beauty: Master Drawings from Chatsworth (21 August – 5 December 2021).
For full details of the Summer Holidays programme please visit www.thelightbox.org.uk.
A Guide to the Summer Holidays
Drop-in Family Workshops
Activities suitable for children aged 4+, all children must be accompanied by an adult. All materials included. Please note you may have to wait if the studio is full. Free entry, suggested donation £3.
Olympic Torches
Fri 23 July 2021, Drop-in anytime from 1.30pm – 4.00pm
Bubble Friday
Fri 30 July, Drop-in anytime from 1.30pm – 4.00pm
Bubble Friday
Fri 13 August, Drop-in anytime from 1.30pm – 4.00pm
Bubble Friday
Fri 27 August, Drop-in anytime from 1.30pm – 4.00pm
Olympic Medals
Wed 28 July, Drop-in anytime from 1.30pm – 4.00pm
Mini Footballers
Wed 11 August, Drop-in anytime from 1.30pm – 4.00pm
Cup and Ball Game
Wed 25 August, Drop-in anytime from 1.30pm – 4.00pm
Bookable Children's Workshops
Advance booking required. All materials included, but please bring something to take your project
home in. Children under 8 years must be accompanied by an adult. Accompanying adult goes free.
Olympic Athlete Puppets
Tues 27 July, 1.30pm – 3.00pm (5 – 7 year olds)
£9.50 per Child
Studio Sundays: Sports Posters
Sun 1 August, 11.30am – 1.00pm
£9.50 Adult and One Child• £5 Add-on Ticket
Papier Mâché Sculpture
Thurs 29 August, 1.30pm – 3.00pm (8 – 11 year olds)
£9.50 per Child
Studio Sundays: Sports Posters
Sun 1 August, 2.00pm – 3.30pm
£9.50 Adult and One Child• £5 Add-on Ticket
Young Creatives: Graphic Novel Masterclass
Thurs 5 and Fri 6 August, 10.30am – 3.30pm (11 – 16 year olds)
£35 per Young Person
Ship in a Bottle
Thurs 12 August, 1.30pm – 3.00pm (8 – 11 year olds)
£9.50 per Child
Learn to Draw Your Hero
Thurs 26 August, 1.30pm – 3.00pm (8 – 11 year olds)
£9.50 per Child
Team Tees
Tues 10 August 1.30pm – 3.00pm (5 – 7 year olds)
£9.50 per Child
DIY Board Game
Tues 24 August 1.30pm – 3.00pm (5 – 7 year olds)
£9.50 Per Child