Latest News
Cannon Café launch at The Lightbox gallery and museum
26th October 2021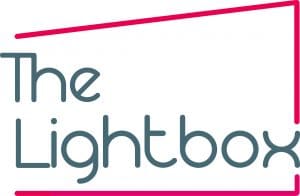 The Lightbox gallery and museum is excited to announce the launch of Cannon Café this October, run by Cannon Coffee – a speciality coffee roaster based in Woking.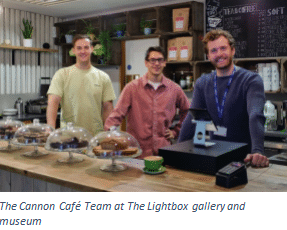 Cannon Coffee Roasters is run by Chris Foulkes and Ben Hartman, who have always had a love for the coffee industry. Ben's background is in digital marketing but his passion was invoked by coffee – one of the biggest industries in the world which is experiencing advances in information, brewing methods and a push towards sustainability. Chris has been involved in the speciality market for 8 years and his skills range from espresso engineer, coffee roaster to Head of coffee. The combination of these skillsets made them take the plunge to run their own roaster and flagship café at The Lightbox.
Cannon Coffee Roasters offer ethically sourced coffees from every coffee growing continent, they aim to have a perfect coffee for everyone. Cannon Coffee work closely with their coffee suppliers and farms so that they can share the traceability of each person in their coffees journey to cup.
Based in the heart of Woking, beside the Basingstoke Canal and neighbouring the WWF, The Lightbox gallery and museum offers a unique space for relaxing, dining and socialising with friends and family.
The Canon Café all-day menu includes soup, sandwiches, sausage and/ or bacon baps and a selection of cakes and sweet treats, with takeaway options available. Over half term, they will be offering kids lunchboxes and as a special Halloween offer, they will have the 'Creep it real' brownies and Spooky deep dish cookies!
Chris Foulkes, Cannon Café said; "We are massively excited to be launching our first Café in The Lightbox so that we can share the taste of our coffees with all of Woking and especially in one of the most amazing art galleries in the South! We will be serving a breakfast and lunch menu and using the unique Lightbox Coffee blend through the machines."
The Lightbox Blend is a unique combination of Brazilian and Costa Rican Coffee. The Brazilian beans are grown by Ana Pelicer and her family on the farm, Faznda Mio in Minas Gerais. The honey processed Costa Rican coffee comes from the Costa Rican farm, Lote las Lajas and is grown by Francesca and her husband Oscar. Designed to be an all-round people pleasing coffee, this presents flavours of Chocolate and mixed fruits and is suitable for all coffee brew methods, from Espresso to Cafetiere.
Pru Shackley, Operations Director commented "We are thrilled to welcome Cannon Café to The Lightbox gallery and museum and hope the local community will show their support and pop in to
sample the delicious new menu and speciality roast coffee. We are also delighted that Cannon Café are generously offering a 10% discount to our Lightbox Members"
Cannon Café at The Lightbox is open Tuesday – Saturday, 10.00am – 4.00pm and Sunday 10.00am – 3.30pm. No pre-booking required, seating is available indoors and in the courtyard.
For more information on Cannon Café and the programme of exhibitions and events at The Lightbox please go to thelightbox.org.uk