Latest News
Brooklands Museum brings Napier Railton to Civic Centre
15th October 2018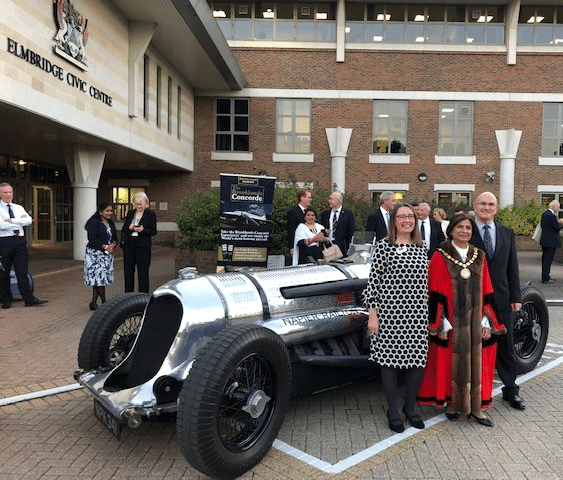 Elmbridge Borough Council welcomed representatives of the Brooklands Museum to the Civic Centre on 3 October.  The Museum had arranged a unique demonstration showcasing the famous Napier Railton car. Built in 1933, this famous vehicle set the all-time speed record for the Brooklands track, so is very much a key part of Elmbridge and world history.
Tamalie Newbery, the new CEO at the Museum addressed Members of the Council, with the desire of further deepening the partnership between the Museum and the Council. She explained that the Napier Railton embodies what is so fantastic about Brooklands Museum, as a place where history is kept alive on a daily basis, with awesome machines, engineering and the fantastic people who design, build and run them.
Brooklands Museum were recently announced as Finalists for the Art Fund Museum of the Year 2018.  The Museum, based in Weybridge, is a great asset to the Borough with the associated history and world changing innovation that was developed at the Brooklands site.
The Mayor, Councillor Mrs. Shweta Kapadia, said "It was a joy to welcome the Chief Executive of Brooklands Museum and have the Napier Railton at the Civic Centre. It is a beautiful car. I encourage all to visit Brooklands Museum to see it, and other racing cars, as well as sample motor racing and aviation history and a full range of exhibits including some iconic aeroplanes."