Latest News
Azets CEO praises colleagues as firm celebrates milestone first anniversary in Surrey and the South East
8th September 2021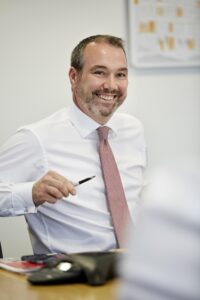 Chris Horne, CEO of Azets, one of Europe's largest regional business advisory, tax and accountancy firms with a number of offices in Surrey and throughout the South East, today praised his colleagues as the business celebrates 12 months since launching the Azets brand in the UK.
Chris marked the one-year anniversary of the UK rebrand by paying tribute to his team for continuing to deliver the firm's growth ambition and supporting its clients throughout the global pandemic.
Chris said: "It's been a challenging but rewarding year – one none of us will ever forget – and I'm immensely proud of the way we have supported our clients and each other through one of the toughest periods many of us will ever face. The decision to keep moving positively forward was one driven by the determination of our people and senior leadership, and a commitment to supporting our clients.
Today marks a major milestone in our growth story, which for the Azets brand is still only just beginning."
In September 2020, Cogital Group rebranded Baldwins, Scott Moncrieff, Wilkins Kennedy, and Campbell Dallas as Azets, creating a top 10 brand in UK accountancy. Together with Azets' other UK brand, Blick Rothenberg, the business generates almost £300m of revenue.
Since rebranding as Azets, the firm has supported its clients through a difficult year for business in general, whilst adding 10,000 new clients and creating an additional 500 job openings at all levels, including over 200 graduates and school leavers.
As part of ambitious plans to increase revenue by 50% in the next five years, Azets recently announced a further 650 new jobs in the UK over the next year, at least 10% of which the firm hopes will be filled by retired and older professionals on career breaks.
Other highlights from Azets' first 12 months include:
●          Multi-million-pound investment in a fully digitised, mobile-enabled hybrid working environment
●          More than 100 staff have benefited from internal career mobility with promotions across Azets' regional office network
●          Hosted 26 free webinars to support clients during the pandemic
●          Record activity by the firm's Corporate Finance team, with 50 deals in ten weeks
●          New strategic partnerships with SIA Group and Propel, and the launch of Azets Financial Planning to offer additional advisory services to clients
●          Continued acquisition of accountancy and tax advisory firms
●          No.1 ranking for Service and Expertise in the Charity Auditor Awards 2020
●          Appointments of Aase Aamdal Lundgaard and Ian Smart as Non-Executive Directors from Deloitte and Grant Thornton respectively
●          Inaugural SME Barometer, a new survey of 760 Azets SME clients across the UK and the Nordics to champion the voice of SMEs.
Chris Horne added: "Launching the Azets brand represented the next phase in our development, alongside significant investments in technology, infrastructure, and people. What we have achieved in our first 12 months has met and, in areas, exceeded our strategic plan, and we're on a positive footing to meet our short- and long-term growth targets."
In June 2021, Chris Horne replaced Dawn Marriott, who remains part of Azets as a Board member, as CEO, including overall responsibility for Azets and Blick Rothenberg, with more than 160 offices across the UK and the Nordics.
Note to Editors
A photo of Chris Horne is here and attached.
Chris Horne is available for interviews.
About Azets Group
Azets is an SME focused international accounting, tax, audit, advisory and business services group, with 160 offices across the UK and Europe, over 6,500 employees and 600 Partners. In the UK, Azets is the largest regional accountancy and business advisor to SMEs and the 9th largest accountancy business. Blick Rothenberg, the award winning international corporate and private tax and accounting brand is a part of Azets Group.
The Azets client experience is based on delivering a highly personalised service, through its local office network and its proprietary digital workplace technology, "CoZone". A unique cloud-based portal, CoZone offers SMEs a market leading digital solution, with instant access to information about their business that simplifies workflows, increases operational productivity, and supports a more productive client relationship.
Across its network of offices, Azets supports c.120,000 clients across the UK and Europe. Clients include enterprises, SMEs, large scale business, public sector, and private clients, across multiple sectors.