Latest News
Award-winning New Old Friends present Crimes, Camera, Action at the Yvonne Arnaud Theatre 25 & 26 Feb
11th January 2022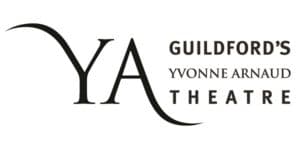 Multi-award-winning theatre company New Old Friends are back at the Yvonne Arnaud Theatre in Guildford with Crimes, Camera, Action (25 & 26 Feb). Set in the Golden Age of Hollywood, Crimes, Camera, Action is the glamorous and hilarious new instalment in their hugely popular 'Crimes…' series of comedy thrillers.
When a Hollywood starlet is stabbed on-set in a fatal mix-up of props, there's only one man fit for the job of solving the crime: Stan Shakespeare, a hard-boiled, world-weary detective who has seen it all before… or has he? The accidental stabbing sets in motion a bizarre chain of increasingly unfathomable events. Paying respectful yet playful homage to Humphrey Bogart, the latest creation by New Old Friends is every bit as energetic, inventive and amusing as their previous productions in the series.
Crimes, Camera, Action is directed by James Farrell, Associate Director of the Olivier award-winning West End hit The 39 Steps. A cast of just four actors will tackle multiple roles, bringing the full force of New Old Friend's talent for skilfully ramshackle comedy to the stage.
Feargus Woods Dunlop from New Old Friends said: 'We have always loved Film-Noir and knew we wanted to take the 'Crimes…' series into a slightly new world to give us fresh tropes to play with and new landscapes to create nonsense in. There is a slightly different structure to a Hollywood private-eye story than an English cosy-crime one and that has been great fun to explore. We are very excited to present this fresh spin on the popular series.'
For more information and to book tickets, visit: Yvonne-Arnaud.co.uk. Alternatively, contact the Box Office on 01483 44 00 00 (Mon-Fri, 10am to 5pm)