Latest News
Vision Engineering continues rapid digital transformation with 360˚virtual product demo launch
19th July 2021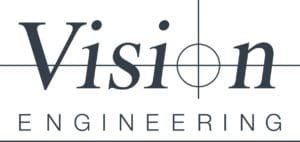 LONDON, 15 July 2021: Vision Engineering, a 63 year old British leading designer and manufacturer of high-quality visual measurement and inspection technologies, has developed a 360˚ online showroom, enabling its website visitors (www.visioneng.com) to 'virtually visit' its UK headquarters, see and experience its range of ergonomic non-contact and contact optical and digital microscopy and measuring systems.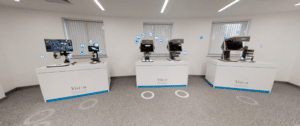 Based on now familiar 'Matterport' scanning technology, visitors are able to 'walk' round its reception area, into a choice of product demo labs, right up to any one of a wide range of its products.
Rich Product Demo Experience
Additionally, a suite of new, market leading technology developments enable the visitor to select from a 'halo' of information options, including the ability to watch a product video, see its application focus, experience a 'try me' or 'ease of use' video simulation, examine a 3D product model, order a brochure, and request return contact or a site demo of the real product, all from in front of the virtual product.
Digital Transformation
The latest step in Vision Engineering's 'digital transformation' programme, the virtual showroom follows on from the redevelopment and upgrade of the company's estate of fifteen global websites last year, and contains information on the full range of Vision Group activities, including manufacturing services, optical component supply, and digital 3D visualisation technology development.
Initially available in English and German, the virtual showroom is hosted on the www.visioneng.com and www.visioneng.de domains, and will be rolled out globally during 2021.
Paul Newbatt, Group Sales and Marketing Director, Vision Engineering comments:
"We are delighted to be launching our new virtual demo capability. It is a clear and decisive response to the lack of tradeshow demonstration opportunities we have experienced as a result of the pandemic. We are now able to better help our customers understand the unique benefits of our microscopy and metrology range digitally 24/7, without the need to wait for a tradeshow.
 Our virtual showroom is truly market leading, hosting a suite of new-to-market features which dramatically push forward the customer's digital experience of our products, and we are confident that it will enable significant new business growth as we move towards the post pandemic era."