Latest News
UMi secures Enterprise M3 Peer Networks contract
30th June 2021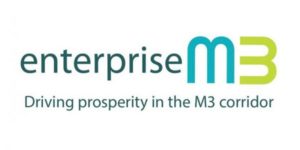 Following a competitive process, UMi has been appointed to deliver the Department for Business, Energy and Industrial Strategy's (BEIS) Peer Networks contract in the Enterprise M3 area. The national peer-to-peer networking programme is for SME business leaders that want to do more and go further.
The new contract follows a successful pilot of the programme in the area, where UMi delivered two cohorts on behalf of the Enterprise M3 Local Enterprise Partnership. The new contract will run from July until March 2022.
Maxine Hart participated in one of the first cohorts. She joined the programme as she was in negotiations to become the Managing Director and a shareholder of Wote Street People, which she had been running as Operations Director for the past 15 years.
"As I have been a friend and colleague of Wote Street People's owner for so long, I was finding it difficult to ask for the contract to be put in writing," Maxine explained.
"It was really useful getting other people's views on how things might look from both sides. Thanks to the support I received from the Peer Networks programme, we have now agreed and formalised everything in writing. This also provides protection for the business owner and allows me to take my plans forward. I would definitely recommend the programme to others."
The fully-funded programme provides a supportive environment for business leaders to further their personal development, unpick problems, and receive constructive feedback and challenging questions that help them think differently about their business. The group sessions encourage openness and build a trusted network that leaders can rely on as their businesses develop.
Virtual group sessions are led by an expert facilitator, with discussions on a range of topics that are flexible to suit the group. These can include COVID-19 recovery, international trade, finding more customers, making more money or improving ability to scale.
In addition to the group sessions, business leaders also receive one-to-one support to help them implement the solutions they have identified to go further in their business.
The programme is open to aspirational small to medium-sized businesses in the EM3 area that have been trading for more than one year, with at least £100,000 turnover and at least five employees. Each business can access the programme once.
Nicki Clark, Chief Executive of UMi, said: "At UMi we know that businesses are more than bricks and mortar or numbers on a spreadsheet, they are living breathing things powered by people.
"Being a business leader can be a lonely place and there's never been a more important time for leaders to draw on the support available from other people, and in particular their peers, as they face significant challenges and opportunities in their businesses.
"Sometimes, it's the outside perspective that helps bring challenge, innovation and clarity. The importance of having a sounding board, the offer of advice, someone to hold you accountable and to cheerlead through small wins when you're leading a business can make all the difference.
"UMi's powerful network in the EM3 area, having delivered the EM3 Growth Hub for the last five years, gave us a great advantage when we went through the competitive procurement process. As an employee-owned business, our team is extremely proud of our local community and we are looking forward to continuing to help the EM3 business community to harness the power of that great network to help them take their businesses further."
Facilitator, Paul Cliff, added: "The EM3 Peer to Peer networking programme has to be one of the most rewarding pieces of facilitation work that I have done. It has been amazing seeing the two groups of SME business owners come together to share their very personal development needs, as well as their business challenges.
"As well as sharing their journeys and helping each other with current business issues, pooling resources and engaging in practical problem solving, the teams provided amazing emotional support for each other. This has helped attendees build agility, resilience and renewed confidence that they could face the challenges presented through lockdown and beyond.
"The most satisfying element of the programme has been hearing how the candidates have continued to be there for each other after their cohort ended. Developing a sustainable support network to support you through any challenges you might face has to be the single biggest success factor for a growing business. I cannot recommend the programme highly enough."
To register your interest in joining the programme, please complete the expression of interest form.