Latest News
The Big Breakfast helps record numbers to network and do new business
21st November 2017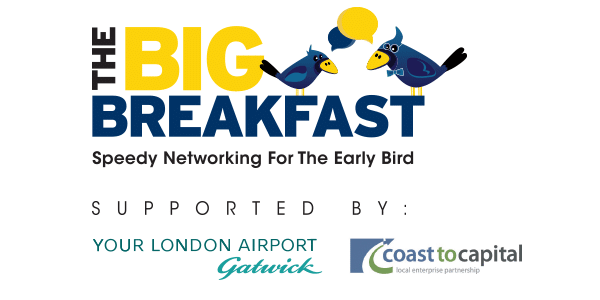 The Big Breakfast enabled a record number of entrepreneurs in Surrey, Sussex and Kent to network and win new business in 2017.
Attendance at the free monthly speed networking event, supported by London Gatwick Airport and Coast to Capital LEP rose by over 10% this year – its seventh since setting up – with an average of 100 delegates at each early morning session.
As The Big Breakfast prepares for the final session of 2017 at its regular venue, IKEA Croydon, on Thursday, 23rd November, Alison Addy, Gatwick's Head of Community Engagement, said: "We are delighted that The Big Breakfast has enjoyed another successful year.  It was exciting to see the this great networking format roll out from its Croydon home to three new venues, at Gatwick, Epsom, and Lingfield, allowing more businesses to connect and grow together. They were all very busy events, which is really encouraging."
Andrew Dennis, Senior Business Navigator at Coast to Capital, was delighted with the turnout when The Big Breakfast travelled to Lingfield Park Marriott Hotel for the first time on 31st October.
He commented: "Lingfield is a good location and one that, as a Local Enterprise Partnership, we have been keen to engage with. The Lingfield Park venue was busy with new delegates collaborating well with those businesses who had been before to Croydon. So it was a real success from our point of view."
The delegates at the event agreed, with several saying they had made viable leads which they hoped would result in new business.  Kevin O'Malley, of Genistar in Caterham said: "It was a fantastic networking event – the venue was really good, and well catered, and the networking moved quickly and smoothly. I made some great connections with some very vibrant, entrepreneurial business owners."
Paul Curran, of Content Distillery in Brighton added: "I met some interesting contacts and I think there is some business for us there. I like the four minute networking sessions – they make you think how you get across what your business is about in a short amount of time."
Steven Fox, of Saracen, in Leatherhead said: "It was very productive and well organised with a good selection of different businesses to network with. Lingfield is in a key location with a good mix of business owners and company employees. I will certainly be back."
The Lingfield event was supported by local partners, Surrey Chambers of Commerce, West Kent Chamber and Croydon Chamber. Louise Punter, Chief Executive of Surrey Chambers, hopes the new venues will be "a regular addition to The Big Breakfast calendar."  She said: "Lingfield was another great cross-border networking event, enabling businesses to make new connections. The format creates a great atmosphere – you could hear the excitement and buzz in the air."
Places at the final event of 2017 at IKEA Croydon – from 7am to 9.30am on 23rd November – are going fast. To book, visit: bigbreakfastlingfield.eventbrite.co.uk   www.thebigbreakfast.org.uk