Latest News
Surrey Choices Growth Team become Surrey Hills Conservation Volunteers
24th February 2022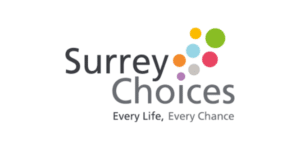 This month a group from Surrey Choices became the first Surrey Hills Conservation Volunteers. They are undertaking conservation work at Newlands Corner helping to manage access and habitats for people and nature.
The Surrey Hills Conservation Volunteers project has been made possible with funding from the Surrey Hills Farming in Protective Landscapes (FiPL) grant and support of the Surrey Hills Society, Surrey Hills Trust Fund and Surrey County Council Management Team.
The FiPL funding aims to develop and enhance the landscape, whilst enabling supported adults to gain important skills in horticulture, conservation and working in public spaces. The goal is to help transition volunteers into the workplace.
A visit from Lord Benyon
On a recent visit to view some of the Surrey Hills FiPL funded projects in action, Lord Benyon, the Parliamentary Under Secretary of State at the Department for Environment, Food and Rural Affairs, commented how delighted he was "to meet the talented and passionate Surrey Hills family and their partners for what was a vibrant and informative day." He went on to say: "It was wonderful to hear about the valuable work being undertaken to support native species and improve access for the public."
Feedback appreciated by the Growth Team
The group from Surrey Choices were particularly impressed by the way Lord Benyon wanted to talk directly with them. He was interested to get a real picture of the benefits that team members are getting from undertaking this type of conservation work.
Mark Evenden, Senior Activity Facilitator at Surrey Choices explained "The Minister and his guests watched the Growth Team in action. They seemed mightily impressed by the work that was being carried out."
The group was using machinery to clear the dense bramble and small trees across the grassland. Some of the staff team were also operating chainsaws to clear the larger trees.
The Surrey Hills National Landscape is recognised as an Area of Outstanding Natural Beauty and is one of 46 nationally protected landscapes in the UK.
This collaborative project is set to benefit the beautiful Surrey Hills landscape, wildlife and the many people who visit. Keep up to date with our progress at: https://www.surreyhills.org/surrey-choices-surrey-hills/