Latest News
SUMMER 2021 OPEN-AIR CAST ANNOUNCED
20th May 2021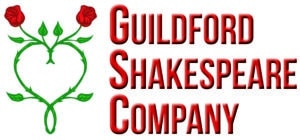 With rehearsals starting next week for Guildford Shakespeare Company's return to the stage, they are proud to announce the cast for their 15th open-air season. Cast across both plays, the company will perform Shakespeare's AS YOU LIKE IT in July and begin the summer with SHE STOOPS TO CONQUER.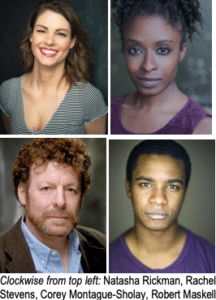 Playing Kate Hardcastle in She Stoops and Rosalind in As You Like It is NATASHA RICKMAN (The Mousetrap West End, Rosaline in GSC's Love's Labour's Lost 2018). Natasha has also directed with the RSC and Shakespeare's Globe, and is Co-founder of Women at RADA, an initiative campaigning for gender equality in theatre.
ROBERT MASKELL (Tevye in Fiddler on the Roof, Alban in Le Cage aux Faux and The Sound of Music, all West End) returns to GSC to play Kate's father Mr Hardcastle and Duke Senior. GSC's actor-manager and co-founder SARAH GOBRAN plays Mrs Hardcastle/Jacques.
Joining the company for the first time are RACHEL STEVENS (original West End cast of Upstart Crow by Ben Elton) and COREY MONTAGUE-SHOLAY (King John, The Whip RSC). They play Miss Neville/Celia and Tony Lumpkin/Audrey/Le Beau in the season.
JAMES SHELDON (Theatre by the Lake Keswick; Jermyn Street Theatre) takes the roles of Young Marlow/Orlando and TOM RICHARDSON (Lady Chatterley's Lover, Tilted Wig) plays Hastings/Silvius/Oliver. Both have enjoyed previous openair seasons with GSC. Completing the cast is MATT PINCHES (GSC's co-founder and actor-manager) as Diggory/Touchstone.
The season opens with Oliver Goldsmith's irresistible comedy staged in the stunning Guildford Castle Gardens. Director TOM LITTLER (Artistic Director of award-winning Jermyn Street Theatre, London) transports the Georgian play to the country house world of Jeeves and Wooster, replete with fearsome aunts, hapless young men, determined debutantes and hilarious misunderstandings.
In July, the company moves to the former chalk quarry in Guildford's town centre for AS YOU LIKE IT. Now a luscious green oasis, Racks Close is a fitting setting for Shakespeare's sunniest play. Director CAROLINE DEVLIN follows her hugely popular The Merry Wives of Windsor from 2019 with a 1930s-set production. Both productions will be designed by long-time GSC collaborator NEIL IRISH.
ACTING COMPANY:
NATASHA RICKMAN
ROBERT MASKELL
SARAH GOBRAN
RACHEL STEVENS
COREY MONTAGUE-SHOLAY
JAMES SHELDON
TOM RICHARDSON
MATT PINCHES
ARTISTIC TEAM:
TOM LITTLER, director
NEIL IRISH, designer
MATT EATON, sound designer
ANETT BLACK, associate designer
INDIANA LOWN-COLLINS, assistant director
TICKETS:
Full £26.50, Concessions £23.50 (over 65, students, Equity, Jobseekers, Reg Disabled), Children £16.50 (under 16), Family tickets £78 (2 children, 2 full) Schools £15 pupils (1 teacher free for every 10) She Stoops Preview 17 June £18.50 (£16.50 children) As You Like It Preview 19 July £18.50 (£16.50 children)
DATES:
She Stoops to Conquer 17 June – 03 July  PRESS NIGHT: 21 JUNE, 7.30pm. Evenings 7.30pm (03 July, 7pm). Audio Description 02 July, 7.30pm
As You Like It 19 – 31 July PRESS NIGHT 21 JULY, 7.30pm. Evenings 7.30pm. Sat mats 2.30pm
BOOKING & FURTHER DETAILS: www.guildford-shakespeare-company.co.uk
PRESS: Matt Pinches matt@guildford-shakespeare-company.co.uk 07971 234141