Latest News
Spelthorne Remembers: 100 trees for 100 years
5th November 2018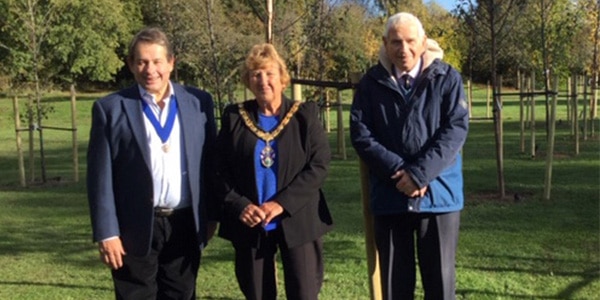 Spelthorne Council has planted 100 trees in Thameside, Laleham Park, to commemorate the centenary of the end of the First World War.
The wood forms part of a programme of initiatives and events aimed to give thanks for peace and to remember the sacrifice of the 731 soldiers lost from the local area and named on the war memorials in the Borough. An information board setting out the significance of the 100 year wood will be placed near the site.
In addition to the 100 trees, a further 631 trees will be planted around the Borough over the coming months to commemorate those who sacrificed their lives during WW1.
Five of the Royal British Legion's 'Silent Soldiers' will also be placed around the Borough as a reminder of the sacrifices made during the First World War and to support the valuable work of the Royal British Legion.
Cllr Robin Sider BEM, a former regular army officer who served for over 39 years, said: "As we enter the final year of commemorations, we felt that planting 100 trees was a fitting tribute to those brave soldiers who fought, lived and died in the First World War. I am delighted to support this initiative to commemorate this important landmark in our history and honour those who served, particularly from the local area."
Remembrance events include a special event for schools on 9 November, hosted by the Mayor of Spelthorne, Cllr Jean Pinkerton, OBE. The Mayor is also set to host a remembrance concert in the evening of Saturday 9 November at Staines Methodist Church. Tickets are £15 each available from the Mayor's Office email mayor@spelthorne.gov.uk or call 01784 446275.
View the Remembrance events in Spelthorne
View the Roll Call of the Fallen