Latest News
Spelthorne Business Forum Annual Riverboat Cruise
3rd October 2018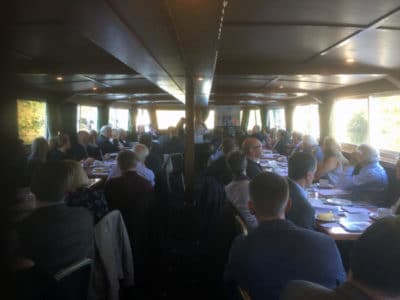 Spelthorne Business Forum's annual riverboat trip was held on Thursday 27 September.
Kindly sponsored by French Brothers and Heathrow Airport, the event saw over 70 local business people come together for a morning of networking against a backdrop of stunning Spelthorne scenery and the River Thames.
The attendees were welcomed by Mike Ramlakhan and Tracey Carter of the Spelthorne Business Forum and then heard from a variety of speakers including Cllr Ian Harvey, Leader of Spelthorne Council and Terry Collier, Deputy Chief Executive at Spelthorne Council. Cllr Vivienne Leighton discussed plans to promote the River Thames and Cllr John Furey explained how the Enterprise M3 is supporting the Borough.
Louise Yearwood from the Rustic Bar Company talked about winning this year's Business Plan Competition and how her business is developing. This annual competition was instigated by Kwasi Kwarteng MP with support from the Spelthorne Business Forum.
Keith McGroary, Spelthorne Council's Economic Development Manager, revealed the shortlist for the Spelthorne Means Business Awards. The winners will be announced at a black tie gala dinner on 11 October at Shepperton Studios.
Cllr Ian Harvey, Leader of the Council, said: "Supporting this annual event is a great way for Spelthorne Borough Council to put our strapline of 'Spelthorne Means Business' into action and to get face-to-face feedback from our local businesses on the issues which affect them."