Latest News
Smith & Williamson quiz raises £2,500 for Shooting Star Children's Hospices
1st May 2019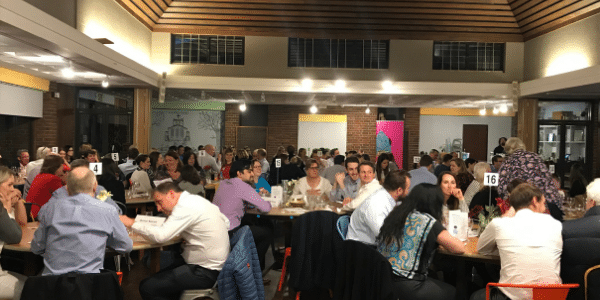 Winning quiz team: 'Quiz me quick' from Smith & Williamson and guests
Names: Howard Towner, Tara Nash, Fiona Reid, Sean Cavanagh, Carrie-Ann Ashton and Luke West
Smith & Williamson, the accountancy, tax and investment management firm with an office in Guildford, has hosted a fundraising quiz night at the Seasons Café, Guildford cathedral in aid of Shooting Star Children's Hospices. The event, on Wednesday 24 April, was attended by around 120 local business people and staff.
Smith & Williamson pledged its support last autumn to Shooting Star Children's Hospices, a leading children's hospice charity caring for babies, children and young people with life-limiting conditions, and their families. The quiz was just one of several activities Smith & Williamson's Guildford office has run in aid of the charity since the autumn, with other events including Christmas and Easter bake sales, book sales and an internal quiz evening. Smith & Williamson's Guildford office will be supporting Shooting Star Children's Hospices over the next two years.
The charity supports families living in London and Surrey, from diagnosis to end of life and throughout bereavement with a range of nursing, practical, emotional and medical care. £10 million a year is needed to deliver their services and help make every moment count for the families they support. One of the hospices, Christopher's, is based at Artington, and provides fantastic support and facilities on a day-to-day basis for children and their families. All of the entrance monies and money raised on the quiz night will go to the charity.
Maggie Lowe, Head of the Guildford office of Smith & Williamson said "We were delighted with the huge response and support we received from local firms, with 17 teams participating in the quiz. Our staff and volunteers helped organise the event which raised a total amount of £2,545, which we are thrilled about. We hope this kind of support can really help make a difference."
"Everyone had a fun evening and the prize went to winning team 'Quiz me quick'. Many local businesses donated raffle prizes which helped us raise additional money. We thank all those who provided these wonderful prizes, ranging from opera tickets to a personal dining experience."
Broma Patel, Corporate Development Manager at Shooting Star Children's Hospices commented "The evening was a huge success and we would like to thank everyone at Smith & Williamson for all their hard work in organising the evening on behalf of the charity. We were also very appreciative of the number of local firms who attended and gave their support. The amount they raised was fantastic."
CONTACT:
Maggie Lowe, Head of Guildford office
01483 407143
Maggie.lowe@smithandwilliamson.com
www.smithandwilliamson.com @SmithWilliamson LinkedIn