Latest News
Sarah Brown appointed new Director of The Lightbox gallery and museum
27th September 2021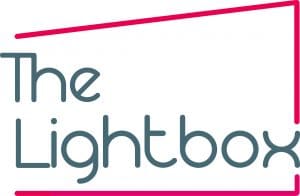 The Lightbox have today announced that Sarah Brown will be the new Director of The Lightbox gallery and museum. Sarah, currently Principal Keeper at Leeds Art Gallery, Leeds Museums and Galleries, will take up the role on the 1st December 2021. She succeeds Marilyn Scott following her decision to step down to pursue full time cultural consultancy.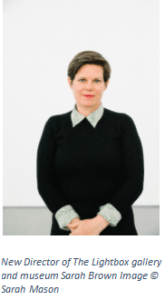 Sarah Brown has led Leeds Art Gallery as Principal Keeper overseeing all aspects of the artistic programme and was responsible for the capital refurbishment following the reopening of Leeds Art Gallery in 2017. As one of the founding members of Yorkshire Sculpture International she has contributed to establishing this major festival celebrating the history, presentation and commissioning of sculpture which launched in 2019. She is an experienced fundraiser within both the public and private sector and has a strong track record of raising funds with trusts, foundations and commercial corporate partnerships.
In 2019 she was a judge for the Paul Hamlyn Award and the Hepworth Sculpture Prize and has chaired the Northern Art Prize celebrating artists living and working in the North. In 2021 she judged the Kleinwort Hambros emerging artist prize. With over 20 years of experience she has curated numerous exhibitions, working with UK and international artists, commissioning new work and has been responsible for major acquisitions for Leeds Museums and Galleries, one of the strongest collections of sculpture in the UK in partnership with The Henry Moore Institute. Some of these acquisitions include work by Phyllida Barlow, Anne Hardy, Andy Holden, Harold Offeh, Martine Syms, and Alison Wilding. She has also curated numerous solo shows including Becky Beasley, Shezad Dawood, Gary Hume, Bruce McLean and Fiona Rae. She has overseen major historic exhibitions including Henry Moore, Art and Life: exploring the work of Winifred and Ben Nicolson as well as shows with Claude Cahun, Terry Frost, Mary Martin and Marlow Moss.
Sarah studied a BA History of Art at School of Oriental and African Studies SOAS, (University of London) and completed an MA Museology at the Sainsbury Centre of Visual Arts, (University of East Anglia).
Pam Powell Chair of the board of Trustees said 'On behalf of the trustees, I am pleased to announce the appointment of Sarah Brown as Director of The Lightbox gallery and museum. Sarah brings deep expertise in the visual arts, a track record in extending access to the arts, and in forging exciting new partnerships to enrich the cultural life of the community she serves. I greatly look forward to working with Sarah at The Lightbox.'
Sarah Brown said 'I am delighted to be appointed as Director of The Lightbox gallery and museum and look forward to working with the team to build on the incredible achievements to date. The Lightbox is a unique museum placing art and wellbeing at the core and the combination of sustainable architecture, the outstanding collection, and impressive programme of exhibitions and engagement together create an important space for audiences. At this pivotal moment in time the relationship between art and wellbeing has never felt more important.'