Latest News
Manor Collection Hotels raise close to £12k for George & The Giant Pledge!
4th March 2019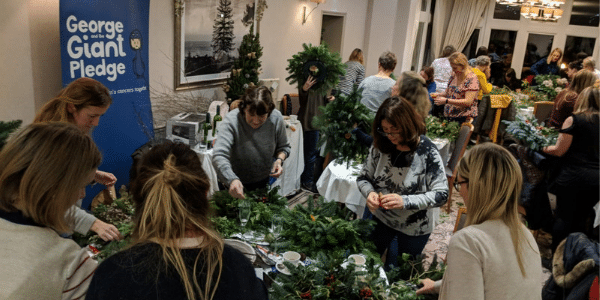 The recently rebranded Manor Collection hotel group has managed to raise just shy of £12,000 for local Redhill based charity George and The Giant Pledge. Reigate Manor and Hartsfield Manor, both whom belong to the Manor Collection have supported the charity for nearly two years. George and The Giant Pledge was set up by a Redhill family whose son was diagnosed with a very rare form of cancer. At the time the funding into childhood cancer research was very scarce and the Woodall's decided to make a change to that and in their darkest hour threw their energies into not only focusing on George's treatment but also with a mission to raise £1million for The Royal Marsden. The money raised has never been to help George, it's with the aim to help prevent other families having to face the same horrendous situations the Woodall's found themselves in.
The management team at Reigate and Hartsfield Manor are very keen to always support a local charity and this seemed like the obvious choice. Over the last couple of years the hotels have hosted four successful quiz nights, two family fun days an Easter egg hunt and a Christmas wreath making event. The quiz evenings are planned and hosted by the hotel staff including the quiz writing itself! The Ballroom at Reigate Manor is always a buzz of activity with quiz goers enjoying fish and chips or a curry whilst competing over the eight rounds to win the trophy!
The grounds at Betchworth based Hartsfield Manor have proven to be the perfect setting for the family fun days and the Easter egg hunt. With fairground rides, craft stalls, food stalls and live music the two family fun days have been great fun and the weather has fortunately always played ball too!
Operations Director, Giles Thomas said "We are so proud of what we've achieved for George and The Giant Pledge, it's been an absolute pleasure helping the inspirational Woodall family hit their target and we're not stopping yet!".
The hotels plan to continue to help the Woodall's in their quest to get to the one-million-pound mark and have plans for more quiz nights and other exciting events.
For further information on upcoming events please see www.hartsfieldmanor.co.uk and  www.reigatemanor.co.uk or call the events teams on 01737 845300 or 01737 240125.