Latest News
Mandira's Kitchen gears up for Christmas
1st November 2021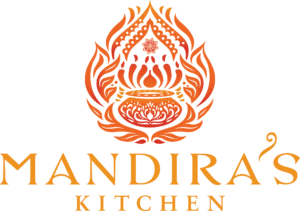 With the hope that Christmas 2021 will include celebrations with family and friends, Mandira's Kitchen have come up with a range of Christmas gifts, party food and Indian banquets to help you celebrate in style over the festive period.
Party food that doesn't involve the hostess spending hours in the kitchen is all important. To spice up your party, there are Party Platters available for delivery or collection that include crispy samosas (meat, vegetable and gluten free options), Pineapple Chutney, Spiced Crackers and Bombay mix. Perfect for passing round or a buffet table.
A perfect family celebration around an Indian Banquet with the Family Feast (meat, vegetarian or vegan options). You can order the food in advance and keep in the freezer until needed, just heat in the microwave for 4 minutes and spend more of your valuable time with family and friends.
For celebrating with friends and colleagues there is also the option to book for the Festive Supper Club at Mandira's Kitchen with several dates available from 25 November. – Booking is open now via the Mandira's Kitchen website and as space is limited, will book quickly. Chai on the patio is continuing at weekends in the run up to Christmas and tables can also be booked on the website.
Now is also the time when everyone starts to think about Christmas gifts for loved ones. A Mandira's Kitchen voucher can get more than just food, they are also available for Cookery Lessons and Spice Tours for the gourmet in your life. New this year is also a range of Indian inspired giftware, to ensure your banquet has that special authentic feel. The range includes insulated dishes, spice tins and candle holders at various price points that make the perfect gift.
The MK Team is looking forward to Christmas 2021 and firmly believe spending time with loved ones is more important than spending time in the kitchen. Mandira says "Here at Mandira's Kitchen, the run up to Christmas is very busy and so we usually shut shop on Christmas Eve and open only in the New Year. These few days allow us to spend time with our loved ones and guess what, we too become customers of Mandira's kitchen ensuring our freezers are stocked full of deliciousness!"
You can visit the Mandira's Kitchen website for the full Christmas range https://www.mandiraskitchen.com/christmas-2021
The food and gifts can be delivered anywhere in the UK from Scotland to Cornwall and everywhere in between. All items can be ordered online from www.mandiraskitchen.com and delivered to any UK Mainland address.