Latest News
Made in the Surrey Hills: New Cranleigh Surrey Hills Artisan Market to highlight the best local produce, art, crafts, food and drink
30th June 2021

Taking place on Saturday 10 July, the new Cranleigh Surrey Hills Artisan Market is set to showcase the wide array of handmade and locally-produced gifts, food, drink, art and crafts from independent businesses made in the Surrey Hills.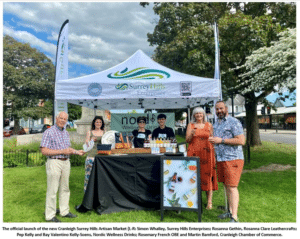 Welcoming people from 10am to 4pm, this family-friendly event is free to attend and will take place along Cranleigh High Street. The wide range of stalls will feature local artisans and their Surrey Hills-made produce, including handmade chocolates and brownies, artisan drinks, handcrafted leather goods, natural skincare, beautiful jewellery, original artworks, giftware, home and leisure pieces, delicious Surrey Hills-made meals and much more.
Offering something for everyone, this atmospheric outdoor artisan market is organised by Cranleigh Chamber of Commerce and Surrey Hills Enterprises, the Community Interest Company that works with local businesses to support the rural economy and promote, protect and enhance the Surrey Hills Area of Outstanding Natural Beauty (AONB).
Speaking about the new market,Simon Whalley, Chairman of Surrey Hills Enterprises, said:
"The new Cranleigh Surrey Hills Artisan Market will provide the perfect stage for some of our very best local artisans to share their products and passion with their fellow residents and visitors to this beautiful Surrey Hills destination. We look forward to seeing everyone there."
The Surrey Hills AONB is home to a community of artisans that keep traditional skills alive, whilst also working to develop new and innovative modern techniques. They create products that are of the very highest quality, are passionate about their craft and are keen to share their knowledge, skills and products with a local audience. The new Cranleigh Surrey Hills Artisan Market will provide the perfect platform for them to do this and to have the opportunity to connect with other local people that share their passions and enthusiasm for handmade produce, food, drink, art and crafts, as well as the Surrey Hills as a place to live, create and shop.
Rosemary French OBE, President of Cranleigh Chamber of Commerce, commented:
"We are thrilled to be bringing this special new market to the village, providing a brilliant new local shopping experience for the residents of Cranleigh and beyond, reengaging people with the High Street and supporting independent artisans in the process. It's one not to be missed!"
Browse a huge range of stalls, see amazing hand-crafted items and sample and take home locally-sourced food and drink at the new Cranleigh Surrey Hills Artisan Market. The event has been organised with strict adherence to government Covid guidelines and all the relevant precautions will be taken including social distancing.
The July market will be the first in a series of Surrey Hills Artisan Markets taking place in Cranleigh, with future markets to follow on Saturday 7 August, Saturday 2 October, Saturday 6 November and a special Christmas market on Saturday 4 December.
For more information, visit: www.surreyhills.org/events/cranleighs-surrey-hills-artisan-market.