Latest News
HRH The Earl of Wessex visits Guildford town centre
29th September 2020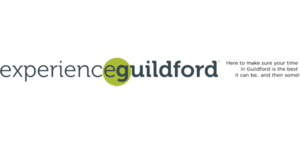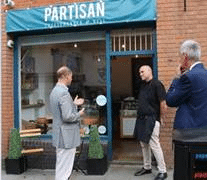 HRH The Earl of Wessex paid a visit to Guildford on Tuesday 22 September and was invited to take a tour of the town, accompanied by the Lord Lieutenant of Guildford, Michael Moore-Molyneux, Chair of Experience Guildford, Kevin Lorimer and Pete Lambert, Town Safety & Venue Liaison Manager of Experience Guildford.
Meeting up in Guildford's prestigious County Club on the high street, Amanda Masters, CEO of Experience Guildford, took the opportunity to update HRH The Earl of Wessex on issues and activities taking place in the town following the arrival of Covid-19, along with discussing the future direction of the town.
Guildford, like every other town across the UK, has been impacted by the restrictions imposed by coronavirus, the fall in consumer confidence and a shift in peoples priorities away from town centre activities such as shopping, to a stronger focus on family, wellbeing and space. However, Masters explained, whilst challenges lay ahead within the current trading environment, opportunities for the future success of our high streets should be embraced, here and now.
"Guildford's recent count of vacant units currently stands as 12.4%, and we can assume that until we are out of these Covid woods, that number could potentially increase. But now is the time to evaluate our core offering in town centres to create areas that meet the new shift in priority seen amongst communities and individuals. More mixed-use development is needed so our towns become less reliant of retail and thrive as areas to live, work and play. However, for this to happen, we need a nationwide relaxation of planning laws and a shift to a more local level to facilitate 'change of use' restrictions and encourage a wider range of businesses from a variety of sectors to invest in our towns."
Kevin Lorimer then went on to highlight the lobbying activity that both Experience Guildford and other BIDs and associations across the UK have undertaken to urge the government to introduce a reform of the rates system across the UK to help support businesses and keep our high streets alive.
As one of the South East's most successful and economically prosperous towns, Guildford, and the businesses who operate within it, has shown great resilience and ingenuity in the face of these unprecedented time, and Lorrimer went on to showcase some of the town's most resourceful success stories, before HRH The Earl of Wessex was then invited for a tour.
Pete Lambert of Experience Guildford who also accompanied HRH The Earl of Wessex on his tour adds;
"Seeing HRH The Earl of Wessex take an interest in the businesses operating in our town was a real boost to morale for all he visited. We are grateful for the time and supportive ear he offered them, as he listed to the individual issues and obstacles that they have met during this turbulent period and heard stories of their resourcefulness to survive. Our local and independent businesses are incredibly important to the economic prosperity of this town, and it was great to offer them this high profile platform to be listened to and to be heard."
As great examples of the hard work and effort these businesses have undertaken to ensure the survival and future prosperity of their business, HRH The Earl of Wessex visited the following cross-section of stores and venues; Barbour, Loake, Koko Hair and Partisan, become culminating his visit with a tour of the town's independent theatre, the Yvonne Arnaud.
Mike Leslie, owner of Partisan, one of the businesses that HRH The Earl of Wessex visited, continues;
"It was great to see the Earl of Wessex taking such a keen interest in our town. I was impressed at how knowledgeable he was of both Guildford and also the current challenges facing High Street retailers. We discussed how important it is for consumers to buy local products through local producers, ensuring money spent in Guildford benefits all in the local economy."