Latest News
Guildford Shakespeare Company's intergenerational project.
21st January 2019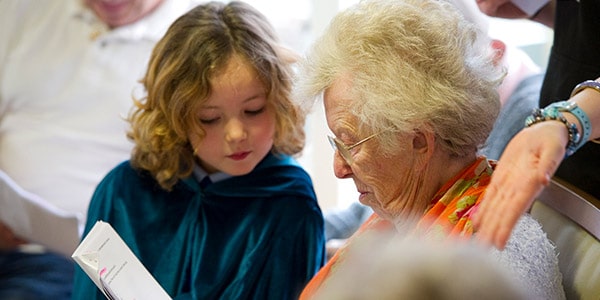 Guildford Shakespeare Company's intergenerational project that transforms lives by 300% returns for second term.
Spirit of Youth, the intergenerational drama project from Guildford Shakespeare Company (GSC), returns for a second term, further tackling social isolation within their local community.
Launched in Autumn last year, GSC's Spirit of Youth project brought together children from Weyfield Primary School and residents of the Queen Elizabeth Care Home in Guildford. Over the course of ten-weeks, the children joined the care-home residents to explore Shakespeare's A Midsummer Night's Dream. Under GSC's guidance they created a 20-minute version of the play which was performed in the care-home in December.
"At the beginning of the project, the residents were very nervous" remembers Francesca McInally, GSC's lead facilitator. "When a party of ten 7-8-year-olds arrived, brimming with youth, energy and excitement, new friendships were forged within minutes. The residents and children discovered they had lots in common – like the colour red and football – and were soon placing prop-crowns on each other's heads."
The benefits of diverse age groups working together was obvious from the first week. The elderly residents relished watching the enthusiasm of the children and helping them to read words they might not have come across before. Young children love attention, so they thrived from their captive audience within the care home and helped the residents, in turn.
"The children and the residents helped each other to follow the script and the pronunciation of any difficult words." continues Francesca McInally. "I was very proud when one of the children shot straight up to help one of the residents, who was confused. He held her script and followed it carefully with his fingers to help her keep her place. After all, she had very important fairy business to do with her hands."
After the success of the first term, GSC are delighted to be running the project again in 2019. For a further ten weeks, the participants will form new bonds and relationships, as they work towards a common-goal in a risk-free environment. A new group of children will join the residents to explore another Shakespeare play, the classic love-story of Romeo and Juliet. If you would like further details of how the sessions worked please contact the GSC Office.
"We have run countless drama projects over the years and there are numerous advantages to running repeat projects." explains Ant Stones, GSC's Head of Education. "Returning for another term of Spirit of Youth will allow us to grow on the success of the first. The participants can take the confidence they gained during the first term into the second, which will allow them to access the project from the very first session. Meanwhile, we will use our increased knowledge of their abilities to tailor the process, so it suits their strengths and encourages them to develop further."
Home Manager of Queen Elizabeth Park, Heather De-Ninis, adds: "This has been and continues to be a fantastic opportunity for our residents. The performance of A Midsummer Night's Dream in December was lovely and our thespian residents are now working happily with Weyfield Primary School on Romeo and Juliet".
Participants were monitored throughout the first term to measure the impact Spirit of Youth had on their well-being. The results were staggering, with the 10 residents who participated aged between 69 and 97, showing exceptional improvements in various areas, including their confidence (a 47% increase), mood and well-being (26%) and sociability (26%). The impact on individuals was even more remarkable, with one resident improving their confidence by 300%, their mood and well-being by 300% and their sociability by 150%.
"One of the quietest residents, came into her own, when playing the role of Puck, from her wheelchair." described a care-home worker. "She became engaged and alert, flapping her fairy wings for all the children to enjoy, as she cast her magic spells. I couldn't believe the change in her."
Progress was equally staggering in the 10 participating children from Weyfield School, aged 7-8. They all showed remarkable advances in various academic areas, with all children twice as likely to listen to instructions in class (a 112% increase) and express their ideas in the classroom (144%). The children were also more likely to work well with others (91%) and learn independently (71%). The biggest area of improvement was in their confidence with Shakespeare and his text, with children nearly four times as confident at the end of the course (275%).
"It has been wonderful having the children around. I enjoy their company and it brightens my day", says resident May Mills, aged 97. Her daughter, Pamela Hunt, who attended the performance, said: "It was so good to see the young children working alongside the residents. New friendships were built and confidence seemed to grow in both the young and old, along with the enthusiasm of the GSC, which was very contagious, Shakespeare's play was brought alive for them in a way that could be understood.  Although my mother has difficulty in remembering sometimes, she found it good to have something to work towards and be part of a group production. I must admit I had great fun watching the performance and hope there will be more in the future."
Spirit of Youth is part of Brave New World, GSC's year-long programme of outreach projects, which seeks to reduce social isolation and assist disadvantaged schools and individuals across Surrey. Many of the projects are free-to-access pilot-programmes and GSC will be able to share their experiences with local authorities and charities to encourage further projects and continued provision in Surrey and across the UK.
"Our aim is to gain further funding, so we can continue Spirit of Youth, indefinitely." states Ant Stones. "In an ideal world, we would create new partnerships between all schools and care-homes in Surrey. We also hope that other organisations will follow this example and create their own projects across the UK."
Queen Elizabeth Park is a residential, nursing and dementia care home in Guildford, Surrey dedicated to enhancing the quality of life of older people. The team are dedicated to ensuring residents maintain as much independence as possible, whilst receiving tailored care and support. They have a wealth of experience in nursing and dementia care and undertake regular on-going accredited professional training to ensure that the care provided to residents is of the very highest standard. Every resident is treated as an individual at Queen Elizabeth Park and activities are planned that are meaningful and promote overall health and wellbeing.  Please visit:  www.carebase.org.uk/homes/queen-elizabeth-park
Spirit of Youth has been made possible through the support of The Community Foundation for Surrey.
For more details about the Brave New World projects, visit the Outreach pages of the website (www.guildford-shakespeare-company.co.uk), or contact Ant Stones, GSC's Head of Education, on 01483 301590, education@guildford-shakespeare-company.co.uk.
GSC PRESS CONTACT Matt Pinches ~ 07971 234141 info@guildford-shakespeare-company.co.uk