Latest News
Guildford-on-Sea goes online on Thursday 30th July 2020
27th July 2020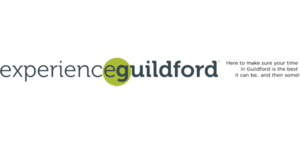 Enjoy the ultimate seaside 'staycation' without even leaving the comfort of your home or garden, as Guildford-on-Sea goes online on Thursday 30th July 2020. One of Guildford's top-ranking summer attractions, the family-friendly urban beach is to return this year, but due to Covid-19 restrictions, will be offering a virtual day at the seaside to keep that holiday spirit going.
The team at Experience Guildford who have bought Guildford-on-Sea to the town for the last 7 years were determined to not let this year's activities be a washout, and instead are intending to make waves over the web.
"If we can't bring people to our annual beach, then we'll take the beach to them", declares Amanda Masters, CEO of Experience Guildford, the town's Business Improvement District.
Hosted via a dedicated microsite accessible through the Experience Guildford Facebook page, @ExperienceGford, Guildford-on-Sea online will showcase a fun and varied programme of activities for the whole family to enjoy throughout the day.
From high energy seaside boogie classes with Busylizzy Guildford, arts and crafts sessions with Surrey Libraries, to beachside storytelling, with Roger Black reading the children's hit 'What the Ladybird Heard at the Seaside' by Julia Donaldson. Plus, there will be face painting demos, a virtual meet and greet from the residents of Mane Chance Horse Sanctuary, and of course, what seaside would be complete without a Punch & Judy show, presented by popular entertainer, Will Cousins.
From 7pm, the beach quiz master takes over the reins, with Pete Lambert of Experience Guildford hosting a beach-themed charity quiz in aid of local charity, Real Change Guildford. Sign your team up to be king of the beach quiz castle, with a top prize of a £100 voucher for Turtle Bay to be won.
Amanda Masters continues;
"Guildford-on-Sea has become such a popular event for residents and visitors to the area, and a real mark to the start of the summer holidays. Whilst this year is going to be a little different for many in terms of holiday plans, we still wanted to mark the occasion, offer families a fun day of activities, albeit remotely, and continue our efforts to bring the community together whilst at the same time raising funds for a worthy local charity. For once, a trip to the beach won't be affected by the weather with our virtual offering, and we hope that everyone will find a little seaside fun to get involved with."
For more information on all the activities taking place during Guildford-on-Sea online and to sign up to the quiz, visit www.experienceguildford.com or Facebook.com/ExperienceGford.