Latest News
Guildford gem celebrates ruby anniversary  
10th April 2019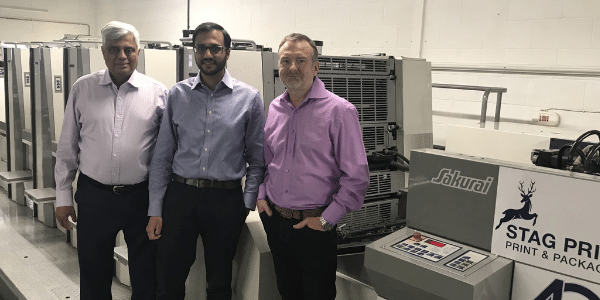 Guildford-based company Stag Print is celebrating 40 years in business.
The family-owned company has been providing premium printing services to its customers for four decades. Everything from award-winning printed boxes to invitations for events at royal palaces.
Founded in 1979 by Rajendra Patel who studied print, Stag Print has always had its roots in the south east moving from Twickenham to Guildford in 2008. Rajendra's son Sushil Patel then joined the business in 2013 following a successful strategy and transformation career in London.
Using his knowledge and experience, Sushil has implemented new ideas and equipment into the business. Most recently, introducing a state-of-the-art print machine with LED-UV drying capabilities, which produces very high quality print that dries instantly leading to much faster turnaround times.
Sushil Patel, managing director, Stag Print, said:
"We are all immensely proud of what the business has achieved over the past 40 years; it is a testament to Stag Print's resilience and that of our customers as the economy booms and busts, and challenges such as Brexit bring uncertainty.
"Investing in new state-of-the-art equipment such as our LED-UV litho press has helped, along with attention to detail in all that we do. Customer care and quality is the backbone of the business, which is why I am personally involved in the quality control process and follow up with customers to make sure they are happy too."
Rajendra Patel, founder, Stag Print, added:
"When I began Stag Print all those years ago, I had no idea it would turn into the success it has. I have thoroughly enjoyed watching it grow, and I look forward to it continuing to do so under the expert eye of Sushil."