Latest News
Five new energy efficiency funding opportunities launched in £3bn scheme
15th October 2020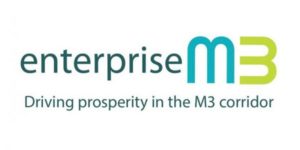 Enterprise M3 LEP is supporting the launch of a number of new funding initiatives which are set to make homes, schools and hospitals greener and cheaper to run.
The £3 billion plan to upgrade buildings was first announced by the Chancellor in his Summer Economic Statement and forms part of the government's plan to 'build back greener' from the coronavirus pandemic and reach net zero emissions by 2050.
The schemes are supported by EM3 through its partnership in the Greater South East Energy Hub, which is a collaboration of 11 Local Enterprise Partnerships (LEPs) working together to deliver sustainble energy solutions.
The schemes include:
The Green Homes Grant Voucher Scheme which has opened to help homeowners upgrade their homes and save up to £600 a year on their energy bills
A £1 billion Public Sector Decarbonisation Fund to boost the energy efficiency of public buildings, including schools and hospitals
A £50 million Social Housing Decarbonisation Fund to improve the energy efficiency of social housing
New measures to ensure nearly three million privately rented homes are upgraded to modern energy efficiency standards by 2028
A Public Sector Low Carbon Skills Fund to help the public sector engage expert and specialist advice
EM3 is committed to supporting initiatives which will help the UK reach net zero emissions. In 2019, it partnered with its neighbouring LEPs – Coast to Capital and the South East LEP – to create The South2East Energy Strategy which set out plans to leverage £14.7 billion of investment in commercial ventures to reduce carbon emissions solutions – the equivalent to removing five million cars from our roads.
Enterprise M3 LEP has welcomed a government consultation to scale up green gas and reduce emissions from the gas grid, as part of its pledge towards helping the UK reach its net zero target by 2050.
Green gas – or biomethane – is produced from environmentally-friendly organic waste products. Using more of this gas from renewable sources to power boilers in homes, or in industrial processes in factories, will help to lower carbon emissions and protect the environment.A new levy will be applied to gas suppliers and will be used to increase green gas production to help decarbonise the gas grid.
Energy Minister Kwasi Kwarteng, MP for Spelthorne, said: "Reaching net zero means reducing emissions across our entire energy system, including the way we heat our homes and businesses. This new funding will support an ambitious scheme to decarbonise the gas grid that will prevent millions of tonnes of carbon dioxide from entering the atmosphere – another step towards reaching net zero by 2050."
The Enterprise M3 area is a leader in Clean Growth sectors. It has 7,169 Clean Growth/Low Carbon companies, almost 10% of the entire UK low carbon and environmental goods and services sectors, generating £18.2 billlion worth of sales in the sector. Clean Growth has been identified as a key element of the essential role EM3 plays in delivering the UK's move towards clean growth and will feature significantly in the LEP's Revive and Renew Economic Recovery Plan which is due out shortly.
The Green Gas Levy was first announced in the 2020 Budget earlier this year, and more information about the consultation can be found here.