Latest News
Experience Guildford announces 2017 Customer Service Award winners
9th October 2017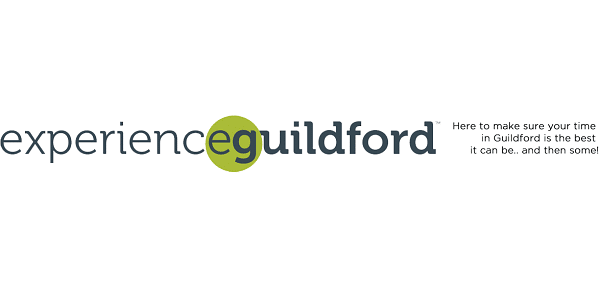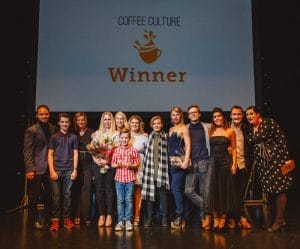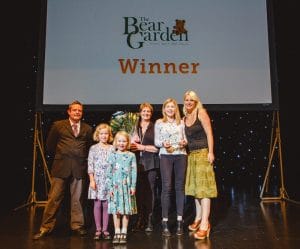 Town centre businesses, local dignitaries and representatives of Guildford enjoyed a celebratory evening at the Yvonne Arnaud Theatre on Monday 2 October as Experience Guildford crowned the town's customer service stars. Now in its fifth year, the Experience Guildford Customer Service Awards have gone from strength to strength with nearly 5,000 residents and visitors to the town voting for their customer service heroes. Adding to the excitement, the awards also featured a dramatic performance by aerial artist Gemma Rix and comedian Danny Buckler.
Nominations for each of the award categories were announced at the beginning of September and since then each shortlisted business has been visited by a secret shopper to be finally crowned king of their category.
Below is a list of the Experience Guildford Customer Service Award Winners for 2017.
Best Customer Service – Pubs, bars and clubs – The Britannia
Best Customer Service – Coffee shops – Coffee Culture
Best Customer Service – Restaurants National – The March Hare
Best Customer Service – Restaurants Independent – Thai Terrace
Best Customer Service – Food on the Go – Five Guys
Best Customer Service – Health– Red Hot Yoga
Best Customer Service – Beauty – Champneys
Best Customer Service – Leisure and lifestyle – Yvonne Arnaud
Best Customer Service – Service provider – The Street Angels
Best Customer Service – Professional services – Halifax
Best Customer Service – Retail National small (20 staff or less) – Pure Collection
Best Customer Service – Retail National large (20 staff and over) – Waitrose
Best Customer Service – Retail independent – The Bear Garden
In addition to the public vote categories, the Customer Service Awards also include a Shining Star category, designed to offer managers of individual stores or businesses the opportunity to reward their staff members whom they feel should be recognised for their outstanding contribution to the business. The Shining Star Award 2017 went to Anne McCloy from Bravissimo. Store Manager, Kitty McKay, put Anne forward for the award because: "She is a ray of sunshine, making customers and staff feel amazing even when they are having the worst days.'
Commenting on this year's awards and the calibre of entrants, Amanda Masters, general manager at Experience Guildford says;
"We are delighted to see the Experience Guildford Customer Service Awards so well supported by the businesses of the town and by Guildford's visitors and residents, who understandably place good customer service high on their agenda when deciding where to spend their time and their money. These awards represent one of the first initiatives introduced by Experience Guildford when the Business Improvement District was first formed in 2012. Since then their momentum has gathered pace, as has the town's collaborative efforts to raise standards and promote Guildford under the collective banner of Experience Guildford.
"Thanks to all the businesses who got behind the awards again this year and to everyone who took the time to vote. We should all be proud of the achievements of our town and I look forward to continuing to represent and support Guildford with ongoing initiatives to raise its profile and drive visitors and business to the area."
Below are some comments from the Customer Service Award winners on the night:
Winner of the Independent Retail Award for a fabulous fifth year in a row, Andrew Colborne-Baber, owner of The Bear Garden says:
"Winning the Customer Service Awards again this year was extra special. Not only was it our fifth victory in a row, but it comes at a time when we are celebrating the 25th anniversary of the business."
"It means a great deal to us all to be recognised for all the hard work we put in throughout the year to make sure that our customers enjoy visiting us and get the high-quality service that they deserve. We place the customer at the heart of everything we do."
William Gill, co-owner of Coffee Culture, winner of the Coffee Shops category for a fourth year adds:
"It's unbelievable that we've won four times now, it really does mean a lot to us.  We try hard to go the extra mile for every customer that comes into the shop and these awards are a statement of just how much our staff care. They offer a valuable tool to benchmark ourselves against all of the other 30 plus coffee shops in Guildford to ensure that we remain at the top of our service game.
The Customer Service Awards, along with other initiatives introduced by Experience Guildford have helped galvanise all the retailers in Guildford – big and small, independent or national – to make the great town that Guildford is today."
James Barber, chief executive of the Yvonne Arnaud Theatre, winner of the Leisure & Lifestyle category continues;
"It was a pleasure to host the Experience Guildford Customer Service Awards here and we are delighted to have won the award for Best Customer Service in the Leisure and Lifestyle category.  We endeavour to welcome visitors to our Theatre in a friendly, informative and efficient way and this award is a lovely recognition of the work of our Theatre staff who care very much about engaging with theatregoers to offer them a thoroughly enjoyable experience."
Rod Boreham, Guildford Town Centre Chaplain and representative of Guildford Street Angels – winner of the Service Provider category award says;
"We're very delighted but somewhat surprised to have won this award again for another year and are very grateful to everyone who voted for us. These awards are so important to Guildford as they recognise good service in so many different sectors and it helps establish once again what a great place that Guildford is."
Jo Williams, deputy manager of Pure Collection – winner Retail National small (20 staff or less) says; "We're so, so happy to have won, it's amazing. We're just so pleased that everyone took the time to vote for us, customer service is so important to us. It's one of the reasons we put so much into it so our customers enjoy every visit. The whole team puts 100% in and this proves we're doing great!"
Dot Stansford, customer service at Waitrose – winner Retail National large (20 staff and over) says;
"It is unbelievable for us to win for the second year running. We put the customer first, they're all individuals and are always first.
"We look after them, help them and treat them like family – some of them actually are!"
Georgie O'Hare, assistant manager at The Britannia, winner of the pubs, bars and clubs category says;
"It is nice to be appreciated because we try really hard to work on everyone's experience.
"We have really happy staff and a very close team. If we're happy we think our customers will be happy."
For more information on the Experience Guildford Customer Service Awards and detail of all the winners visit www.experienceguildford.com