Latest News
Charles Russell Speechlys Focuses on Attracting New Talent
19th December 2018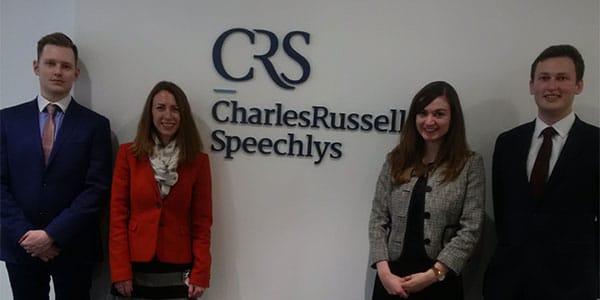 18 December  2018 –  Charles Russell Speechlys in Guildford hosted a successful Graduate Recruitment Information Day at its offices at One London Square as part of its continued commitment to attract top talent into the firm across all levels.
The event, attended by 25 law students, primarily from universities in the South East of England, provided an insight into life at a law firm and, in particular, the career opportunities available at Charles Russell Speechlys.
The event included talks from Jamie Cartwright, Graduate Recruitment Partner at Charles Russell Speechlys in Guildford;  Samuel Milne, Associate in Corporate Law; as well as a number of trainee solicitors. Attendees were given an insight into a typical day as a trainee at the firm in addition to hearing about the social and community activities which all office staff, including the trainees, are invited to get involved with. They were also given advice on the application process and the all-important tips on what makes a candidate stand out.
Jamie Cartwright comments, "Trainee recruitment has been and will continue to be a key part of our growth as a firm.  We have strong links with a number of Universities in the region and we wanted to connect sooner with students who have an interest in the law to offer an insight into the role of a solicitor, the training contract at Charles Russell Speechlys and the opportunities for those who are selected to join our firm. We have received great feedback from those who attended and will be repeating the event in late Autumn 2019."
Duncan Elson, Partner and Head of Charles Russell Speechlys' Guildford office adds,  "We pride ourselves on nurturing talent and providing high quality and exceptional training opportunities to talented new law graduates and we are delighted that our trainee programme is so highly regarded. Our inaugural Graduate Recruitment Information Day was a great opportunity for prospective trainees to learn more about our firm and the potential career opportunities ahead of them."
Charles Russell Speechlys employs over 160 staff in its Guildford office at One London Square and provides a full range of services to businesses and private clients in the region, backed by the resources of an international law firm. For further information, please visit www.charlesrussellspeechlys.com