Latest News
Celebrate Guildford' to showcase the town's events, activities & attractions this summer
10th May 2022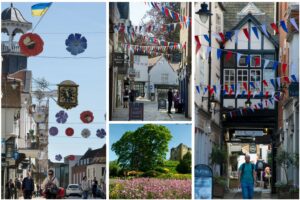 Residents, visitors, businesses and local organisations are all gearing up for a season of celebration this summer to mark The Queen's Platinum Jubilee, and to showcase the very best of Guildford. Under the banner 'Celebrate Guildford', originally conceived by Russell Scobbie of The Royal Oak, and delivered by Experience Guildford and Guildford Borough Council, a campaign of activities and initiatives will be presented and promoted to bring together all of the borough's events.
'Celebrate Guildford' kicks off with the dressing of the town in colourful bunting and a red, white and blue floral tribute, plus the launch of a new directory pulling together all of the town's celebrations into one place at www.experienceguildford.com/celebrateguildford
Celebrate Guildford key highlights include:
Jubilee Window Trail
Explore the town and find clues to unlock a Queen's bounty of prizes in the Experience Guildford Jubilee Window Trail. Running until 6th June, discover 8 window stickers hidden around Guildford town centre, each containing one letter. Use the Window Trail Map to find each letter, then put them all together to create the competition's winning Jubilee themed word.
Post the entry in the post box at Tunsgate Quarter to be in with the chance of winning one of 3 fantastic prizes, including up to £200 to spend at the Yvonne Arnaud and your chosen independent restaurant as top prize.
Trail maps can be picked up from the Tourist Information Centre, participating businesses and other key points around the town.
Jubilee-inspired shop window displays
Shops, cafes, restaurants and other businesses in the town centre will be encouraged to compete in a Jubilee window display competition to really add some colour to our streets. Launching on 23rd May, we hope to see some imaginative and eye-catching displays of bunting, flags, crowns and corgis. Plus vote for your favourite window on the Experience Guildford Facebook page to decide which business will be crowned King or Queen of the high street, and be entered into a prize draw to win £100 to spend in the town. Winners announced on 7th June.
Celebrate the Jubilee at Guildford Museum from 14 May
Enjoy a special Jubilee trail around Guildford Museum, with a display of exhibits, images and objects from their collection that record ways Guildford has celebrated Royal occasions, including a plum cake recipe presented to Her Majesty The Queen when she visited Guildford in 1957.
Jubilee 'Picnic in the Castle Grounds' – Saturday 4th June
Bring out the bunting, picnic hampers and rugs, and join the Guildford in Bloom 'Picnic in the Castle Grounds' Jubilee celebrations on Saturday 4th June from 12 noon until 4pm. It's free to attend, with live music for all to enjoy at the Bandstand and entertainment from Guildford Fringe Festival.
Live music at The Bandstand
Throughout the summer, enjoy a free programme of live music every Sunday at the Castle Ground's Bandstand. Bursting with a colourful display of spring and summer flowers, these beautiful gardens are a welcome retreat after a busy day's shopping, and one of Guildford's most loved hidden treasures.
Guildford Fringe Festival – 24 June to 16 July
Guildford's largest, independent arts festival returns again this summer, promising to be the largest and most flamboyant yet.
With a packed schedule of comedy, poetry, music, theatre, visual arts, children's shows and much more, you'll find something to entertain the whole family, plus lots of free events to enjoy as well.
Just head to www.guildfordfringefestival.com for the full programme of events.
Add to this our regular North Street, Farmers', Vegan, and Antiques and Brocante Markets, borough-wide Heritage Open Day celebrations, plus open air plays, a cinema, the Chilli and Cheese Festival and the Legends Festival in a number of our parks, and you're set for a great summer in Guildford.
Commenting on the range of celebrations taking place throughout the town, Amanda Masters, chief executive at Experience Guildford said: "We're delighted to see so many town centre businesses and organisations getting behind 'Celebrate Guildford' and doing their bit to mark The Queen's Platinum Jubilee celebrations for residents and visitors.
"Working together to create a full campaign of events and initiatives to showcase all the great things that Guildford has to offer, not only adds vitality and colour during the summer months, but also adds to the legacy of what our fantastic town is known for."
Councillor Joss Bigmore, Leader of Guildford Borough Council, adds: "The Platinum Jubilee weekend marks a historic milestone in our nation's history. It's fantastic that we will be recognising 70 years of dedication and service given by Her Majesty The Queen – and we all get to celebrate with her. The brilliant programme of events happening in and around the borough reflects our vibrant communities and residents' inspiring spirit. The past few years have made it more difficult to come together and we look forward to a summer filled with fun and celebration at these wonderful events. Many thanks to everyone involved, especially our town centre Business Improvement District, Experience Guildford.'
For the latest information on 'Celebrate Guildford' and an up to date listing of events and activities taking place this summer, visit www.experienceguildford.com/celebrateguildford.