Latest News
Brooklands Museum commemorates 100 years since 100mph Motorcycle record set
28th April 2021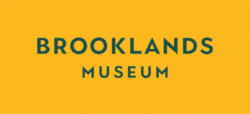 On 28 April 2021, members of the Brooklands Museum Motorcycle Team at Brooklands Museum will be commemorating the centenary of the first motorcycle to reach 100mph on British soil, and the first motorcycle to reach 100mph at Brooklands Race Circuit in Surrey.
Ahead of the anniversary, the team assembled on the Railway Straight of the original track, which is now part of Mercedes Benz World, together with two vintage bikes representing the Harley Davidson and Indian Motorcycles that took part in the duel to be the first to 100mph.
Brooklands is home to many world-firsts, including the world's first motor-racing circuit, three World Land Speed Records, and the first two British Grands Prix.
On the spot where the record was set, Brooklands.
L-R: Perry Barwick, Ian Dabney, Andrew Howe-Davies, John Warr, Mark Fielder, Gareth Pemberton and Martin Gegg
Douglas H Davidson on his Harley Davidson Bike after setting 100mph record in 1921
Motorcycle Team volunteer, Martin Gegg had the idea of commemorating the event whilst he was researching the event for an article in the Brooklands Members' magazine. Martin said:
"I was on the edge of my seat reading the various accounts of this epic battle for the title and was determined to commemorate these brave motorcycle pioneers.
We've managed to get a 1917 Indian Powerplus 1000cc [owned by Andrew Howe-Davies] and a 1920s Harley Davidson C10 sport [owned by John Warr] together to recreate the moment Douglas H Davidson set the 100mph on a motorcycle record, here on the Railway Straight at Brooklands 100 years ago.
Of course, these bikes are very old now, so we are unable to ride them, but just seeing them here , where the record was set is very evocative."
Claude Temple on a Harley Davidson at Brooklands
Bert le Vack a Harley on an Indian at Brooklands
Visitors can see the collection of Motorcycles alongside the motorsport and aircraft collections at Brooklands Museum now. Tickets and booking information available from www.brooklandsmuseum.com