Latest News
Yvonne Arnaud Theatre celebrates funding success
6th April 2021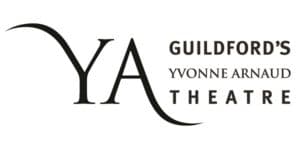 The Yvonne Arnaud Theatre, Guildford, is delighted to have been awarded a grant of £458,000 from the government's £1.57 billion Culture Recovery Fund. Distributed by Arts Council England, the Culture Recovery Fund: Grants Programme supports cultural organisations as they transition back to a viable and sustainable operating model from April to June 2021.
The Yvonne Arnaud Theatre, like other theatres in the country, went dark on 16 March 2020. The theatre reopened wherever possible throughout summer and autumn 2020 with a number of socially-distanced shows and events, both indoors and in the garden. Last year's Christmas production of The Snow Queen, which replaced the annual much-loved family pantomime, was cut short due to Tier 3 restrictions and the theatre has been closed since. Now the Yvonne Arnaud team is working hard behind the scenes to reopen with a jam-packed programme throughout the summer and beyond. The season will begin with the theatre's own production, Siobhan Bassett's The Hound of the Baskervilles, a new comedy by Sara Crowe, from 3 June.
Director Joanna Read said today 'We are relieved to have this additional support from the Cultural Recovery Fund to help us reopen and bring live theatre back to Guildford. The coming year will continue to be a challenge for the theatre as we rebuild operations and we are very appreciative of those audience members who have stayed with us during this time for their support. We look forward to welcoming everyone back in June with our production of The Hound of the Baskervilles.'
Joanna was joined in her thanks to the Cultural Recovery Fund by theatre Patron, Dame Penelope Keith DBE DL, who said 'This is brilliant news. Bravo everybody at the Yvonne Arnaud, and thank you very much to the Arts Council.'
Chair of the Yvonne Arnaud Trustees, Stephen Bampfylde commented: 'This critical support demonstrates confidence in the theatre's vision and recognises our significant contribution to the cultural and economic success of Surrey and Guildford.'
The Yvonne Arnaud's summer season will see the theatre welcoming audiences with classic drama, such as A Splinter of Ice (15 – 19 June) and The Woman in Black (12 – 17 July), alongside the return of popular folk duo Jacob & Drinkwater (20 June). Shows are being announced frequently, so find out more or sign up to receive emails at www.yvonne-arnaud.co.uk, or follow the theatre's social media channels to keep up with news.