Latest News
Woking Borough Council supports recovery of the High Street with the launch of two innovative "shop-local" initiatives
21st September 2020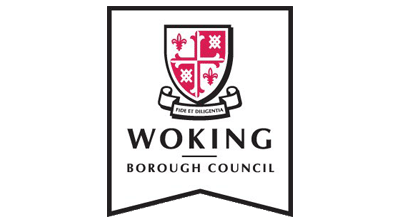 Woking Borough Council is pleased to announce the launch of two new partnership initiatives to encourage people back to our local High Streets.
In collaboration with the University of Surrey, the council has joined forces with two social impact companies – NearSt and Too Good To Go – to help boost the local economy by enabling residents to better support the shops closest to them.
Coronavirus has – and continues to have – an overwhelming impact on the economy. However, one positive of the pandemic is that there has been an increased sense of community, resulting in many more people choosing to support their local businesses.
According to retail technology start-up NearSt, 83% of shoppers would prefer to shop locally instead of online, if they know an item is available in a nearby store.*
Woking Borough Council's partnership with NearSt will help shoppers do just that by identifying when a product they are looking to buy online is available at a local shop.
NearSt helps retailers automatically get the products on their shelves into Google, making it just as easy for consumers to find something locally as it is to order it online. This also makes it easier for consumers to support local businesses on our High Streets.
Shops can enrol in the scheme now and Woking Borough Council and the European Regional Development Fund are subsidising 50% of the £399 setup fee for the first 25 shops to sign up. Shoppers will be able to see which businesses are taking part by looking out for signs in shop windows letting you know that their stock is now searchable in Google.
Reducing the borough's carbon footprint
The second initiative focuses on encouraging consumers to make their food purchases locally while at the same time reducing food waste within the borough.
According to the Waste and Resources Action Programme*, in the UK alone, we waste over nine million tonnes of food and drink every single day, almost 3.5 million tonnes of which comes from the hospitality industry.
The Council has partnered with Too Good To Go, the world's largest B2C marketplace for surplus food, to launch an app which enables residents to purchase food that would otherwise go to waste at discounted prices.
Through the app, users can order 'Magic Bags' of food under a particular type, such as pastries, sandwiches or salads but exactly what is in the bag e.g. the type of sandwich is a surprise to allow stores to get the flexibility they need to make sure nothing gets thrown away.
As well as the environmental benefits reducing food waste brings, the app incentivises consumers to buy food from local shops, cafes and restaurants, and enables businesses to reach new customers and recover sunk costs.
Cllr Kevin Davis, Woking Borough Council's Portfolio Holder for Environment and for Promoting the Local Economy, said:
"Increasingly, we are becoming aware of the huge impact that our modern day, convenience lifestyle has on the planet, and the growing urgency to drastically reduce both our consumption of global resources and the quantity of waste we generate. Equally, over lockdown, we saw people rediscovering the joy of shopping locally, and these local traders still need us now, as much as ever, to keep them open and save jobs.
"We are excited to have introduced two ingenious online services into the Woking business community which are designed to do just this. I urge local businesses to start using NearSt to help your customers find you, and the products and services you provide, easily and quickly. And it is a no-brainer for me to encourage local eateries to start using Too Good To Go, to help diners get hold of great food, at a reduced price, that would otherwise be discarded.
"By participating in these fantastic schemes, we can safely say that not only are we doing our bit to cut down on food waste and reduce our carbon footprint, we are also helping to strengthen our local economy by supporting independent businesses across the borough."
For more information about Woking Borough Council's NearSt and Too Good To Go partnerships, visit www.wokingworks.com/business/increasing-footfall-in-woking.