Latest News
Voluntary Action South West Surrey experience Forest Bathing+ nature therapy session
29th January 2021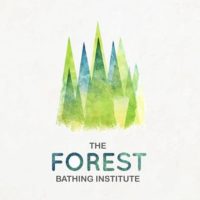 During December 2020, The Forest Bathing Institute (TFBI) hosted a special Forest Bathing+ immersive nature therapy session for the team from Voluntary Action South West Surrey (VASWS).
VASWS is a registered charity whose purpose is to provide support to community groups based in the boroughs of Guildford & Waverley. Services offered include providing advice, information, and support, plus the recruitment of volunteers who offer their time and expertise to support these local community groups.
Funded by Surrey County Council, Guildford & Waverley Clinical Commissioning Group, Guildford Borough Council and Waverley Borough Council, VASWS is also a member of the National Association for Voluntary and Community Action, which provides valuable resource to other community organisations across Surrey.
This Forest Bathing+ session was hosted by Gary Evans, Co-Founder Director of TFBI. The team spent two hours mindfully walking and engaging with all five senses in a structured manner whilst experiencing first-hand, the beautiful, ancient forest at Newlands Corner near Guildford.
Forest Bathing+ is a more comprehensive therapeutic form of forest bathing developed in cooperation with numerous universities, professors, doctors', and scientists. At its core is the incorporation of mindfulness, so Forest Bathing+ encourages full engagement with all five senses to enhance the experience and to
bring about a mindful state, where the body can switch to the parasympathetic nervous system which brings about more cognitive thinking, is more restorative, healing, and therapeutic for the body. It also fosters a more rationale and empathetic state of mind.
In Japan, there has been over 40 years of scientific research carried out to measure the health-giving benefits of 'Shinrin-yoku' or Forest Bathing, which literally translated means spending time under the canopy of the trees. Shinrin-yoku is widely available via the Japanese NHS on prescription, being part of a country-wide public health intervention, both treating and preventing mental health issues and ill-health.
Additionally, Japanese research revealed that the chemicals emitted within the canopy of the forest stimulated a soothing and calming effect on the body, which in turn resulted in positive changes at both a physiological and mental health level.
Indeed, Forest Bathing is prevalent across both Japan and South Korea as a healing modality – replaced with therapeutic intervention for people who suffer from depression, anxiety, mental health issues and physical complaints.
During 2019, in partnership with researchers from The University of Derby, TFBI conducted the UK's first ground-breaking scientific pilot study into the health-giving benefits of Forest Bathing+. These studies replicated Japanese research and measured physiological changes, including HRV taking place when walking in woodland and ancient forests. TFBI has plans to conduct further scientific research with over eleven British universities during 2021.
TFBI and VASWS are currently developing a programme of trial sessions for social prescribing. Two universities will measure the results of these sessions. It is the aim of TFBI to have Forest Bathing+ adopted across the NHS in England as a preventative health care intervention.
NB: In accordance with Government guidelines, please note that due to the current Covid-19 lockdown across England, no Forest Bathing+ nature therapy sessions are running.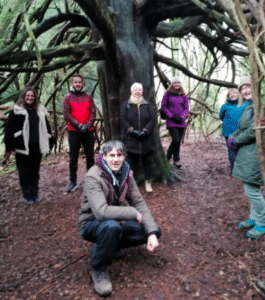 Gary Evans, TFBI Co-Founder Director & the team from Voluntary Action South West Surrey, Newlands Corner, December 2020. Photo Credits to Phillipa.