Latest News
Surrey Hills Sustainable Business Conference Shines a Spotlight on a Greener Future for Surrey
4th November 2021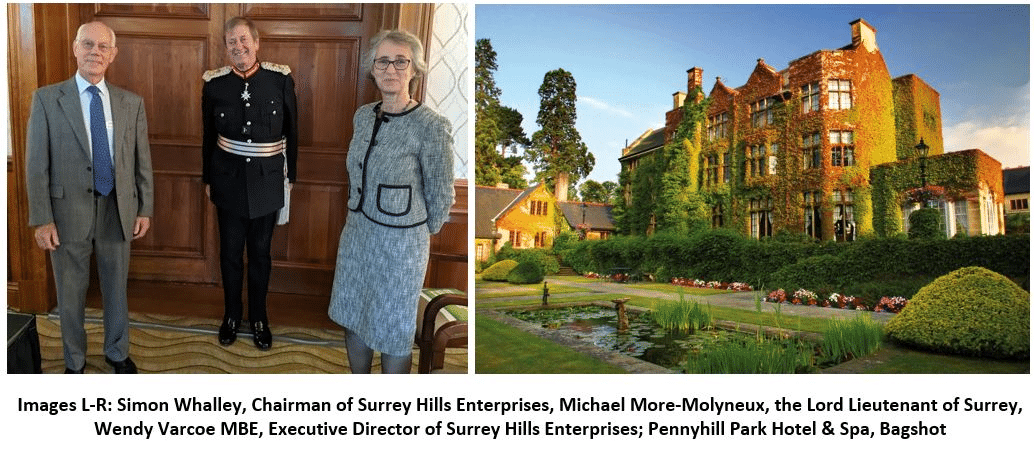 The Surrey Hills Sustainable Business Conference, held on Friday 22 October at Pennyhill Park Hotel & Spa, sparked important discussion and debate around how businesses in Surrey can contribute to a more sustainable outlook for the county.
With a theme of 'Zeroing in on a Sustainable Future', the significant and timely conference was organised by Surrey Hills Enterprises – the Community Interest Company that works with local businesses to support the rural economy and promote, protect and enhance the Surrey Hills Area of Outstanding Natural Beauty (AONB) – and hosted by Pennyhill Park Hotel & Spa, the 5-star luxury Bagshot hotel and destination spa.
The prestigious hotel provided the ideal backdrop to proceedings, with a full and varied programme of presentations from informative speakers to inspire and engage the audience to recover, grow and thrive in a more sustainable way, accompanied by refreshments throughout the day from local Surrey Hills' producers and businesses.
Michael More-Molyneux, the Lord Lieutenant of Surrey and Patron of Surrey Hills Enterprises, formally opened the pivotal conference, and those attending were then welcomed by Chairman of Surrey Hills Enterprises, Simon Whalley, who later commented:
"With the Surrey Hills Sustainable Business Conference, it was important for us to showcase solutions from forward-thinking businesses, providing real life examples of initiatives that achieve both business success and deliver on sustainability goals. This pivotal conference has not only demonstrated that it is not either/or, but that the key to future business success will be to harness a greener approach and use it to pave a more sustainable future for both the business itself and Surrey as a whole."
Speakers for the morning session of the conference included Andrew Griffiths, Chair of IoD National Sustainability Taskforce and Director of Community & Partnerships at PlanetMark who made the practical business case for sustainability and Danny Pecorelli, Managing Director of the Exclusive Collection, of which Pennyhill Park is a part, about the Pennyhill Park experience of using local produce in their restaurants and the importance of the Circular Economy.
Following the first session, there was a chance for attendees to visit the exhibitors' stands, which showcased sustainable business practices, to obtain inspiration for their own future sustainability steps and to network.
The second half of the morning session featured four exemplar speakers: Adam Dobson, Global Sales Director of Silent Pool Distillers who spoke about launching a sustainable product internationally; Mark Lebus, Founder of LC Energy Ltd addressing the room on the Roadmap to Net Zero; 6th-generation farmer, Angus Stovold from Lydling Farm, talking on Surrey Hills Landscape Restoration and farmers collaborating to deliver natural capital investment across the Surrey Hills; and Ian Jones from Hill House Farm about Sustainable Food Production.
A break for lunch was held in the hotel's Hillfield Restaurant, where attendees sampled sustainable local produce from within the Surrey Hills provided by Surrey Hills Enterprises' members, including beef from Provenance Cuts, pork from Hill House Farm, micro greens from Eden Greens, bread from Chalk Hills Bakery, ice cream from Moooh Ice Cream and 'Noor' white wine from Greyfriars Vineyard.
The afternoon session featured key industry speakers, including Carol Miller encouraging businesses to enter the Crest 22 Business Awards, Surrey's sustainable business awards, run to celebrate excellence in sustainability within the county; and Jennie Pell, Clean Growth Sector Specialist at Enterprise M3, and Carolyn McKenzie, Director for Environment at Surrey County Council, speaking about the funding available to Surrey businesses for sustainable practices. The conference closed with reflections and key actions by Peter Martin, Board Director at Surrey Hills Enterprises and thoughts from Helyn Clack, Chairman of Surrey County Council.
During interactive Q&A sessions at the end of each section of the conference, the speakers encouraged excellent questions from within the audience, generating important discussions around key topics. At the close, attendees were able to take away valuable tips and ideas to grow their own businesses in a more sustainable fashion and useful new contacts within the Surrey Hills business community. The Surrey Hills Sustainable Business Conference 2021 inspired and engaged the local business attendees and sparked wider consideration and debate around key topics on how to grow greener – something that was proved to be essential, not just for a more sustainable future but also for future business success.
To learn more about Surrey Hills Enterprises and the services that they offer to support local businesses, visit: www.surreyhillsenterprises.co.uk.