Latest News
Socially distanced success – Guildford Book Festival is a hit with readers and authors alike.
14th October 2020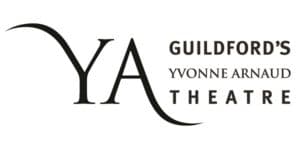 The 31st Guildford Book Festival took place live and in person at the Yvonne Arnaud Theatre from Sunday 4 to Saturday 10 October.
Many festivals have found the challenges of social distancing too difficult this year, but the directors of the Guildford event and the theatre management team, supported by the determined authors and committed audiences, refocussed their aspirations, and put effective plans in place which meant literature fans could enjoy the 17 live events (almost) as usual.
The festival opened on Sunday 4 October with a sell-out event with TV favourite Richard Osman, talking about his lifelong love of crime fiction and his debut novel, The Thursday Murder Club, with BBC Radio Surrey presenter, Lesley McCabe. It closed on Saturday 10 October with another sell-out for writer and broadcaster Gyles Brandreth, and a packed house for Dr Maggie Aderin-Pocock, who inspired a new generation of scientists, and their parents.
Other highlights included Kadiatu Kanneh-Mason, discussing her exceptionally talented musical family, with music from her 19-year-old daughter, Konya; broadcaster James Naughtie, with his views on America; and historian, Alison Weir, on the life of Tudor Queen, Katheryn Howard.
Over 1200 people attended a Guildford Book Festival event over the course of the week, many of them returning throughout the week
Jane Beaton, Co-Director of the Festival said, 'We were thrilled, and relieved, to see so many people turn out in support of the Festival. I know from the feedback we have received that the audiences really enjoyed being able to listen to a live event once more, while the authors were delighted to be in front of a real audience again, many for the first time since March.'
Alex Andrews, Co-Director, said, 'It was the first time we have held the Book Festival all in one place and we know we could not have run the event this year without the help and expertise of the Yvonne Arnaud Theatre. They looked after us brilliantly, kept us socially distanced and everyone felt safe. We look forward to working with them again in the future. We are also extremely grateful to all our sponsors for their support in this difficult year'.
Sponsors for the Guildford Book Festival 2020 were Guildford Borough Council, Cressive DX, Martin Grant Homes, Green Team Interiors, Saxton Bampfylde, Roffe Swayne, Albury Organic Vineyard, Mandira's Kitchen, H2i Insurance Brokers, Softwood Self-Publishing, Experience Guildford and Guildford Arts.