Latest News
Reigate Business Guild plans to wow Reigate with beautiful Christmas lights!
27th July 2018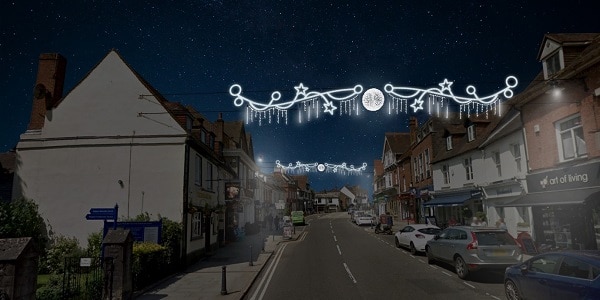 The local business group, Reigate Business Guild are putting the wheels in motion to raise funds to provide Reigate town centre with the most impressive Christmas lights to date. With fundraising events taking place throughout the year and a generous donation from Reigate & Banstead Council the total amount of £26,220 to pay for the lights is within reach. The annual Christmas Fayre which takes place in early December every year on Church Street is always very well attended and is organised by volunteers from the Guild each year. The event is great for the town and really does create a magical Christmas atmosphere incorporating local businesses with stalls as well as entertainment from local dance and music schools as well as street food and Children's entertainment.
Jes Chandler, Chair of the guild said "We have been fundraising for the past six years to replace the existing scheme which very obviously has a shelf life both in impact and maintenance. The new scheme is unique to Reigate and is the result of some serious hard work by the guild members. The Fayre attracts thousands to the town, and with the new lighting scheme set to be switched on during the closing hours of the Fayre on the 1st December 2018, we are all looking forward to a sparkling day to set the 2018 Christmas Festivities in motion"
The Reigate Business Guild was set up in 1991. The Guild enjoys the support of one hundred organisations from in and around Reigate town centre, ranging from large corporate businesses to sole trader shops and restaurants, all individuals who care about Reigate and its surroundings. The Guild are responsible for the hugely successful Reigate Christmas Fair held on Church Street each year. For further information and to join the guild please look at http://www.reigatebusinessguild.co.uk/.