Latest News
RED2GREEN
20th December 2018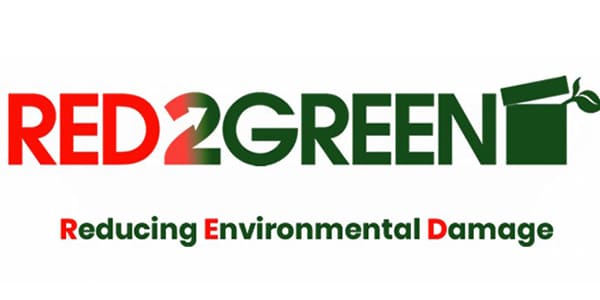 RED2GREEN
RED2GREEN is an exciting environmental initiative that enables its partners to deliver their products and services in a planet-friendly and sustainable way.
We all know that everything we do in business comes at a cost to the environment. Businesses affect the environment through the extraction and utilisation of environmental resources, and through pollution that is released through these processes. From supply chain to lighting and heating and everything in-between, harmful Greenhouse Gases are created and resources depleted through everyday business. RED2GREEN offers its partners the chance to counterbalance the environmental impact of their everyday business through tree planting.
Trees are a Panacea. They absorb harmful CO2 at rate of 1 metric tonne per tree in its lifetime. Trees also raise the water table, reverse deforestation and create biodiversity offering often endangered species a place to live. Not only that, but the trees RED2GREEN plant come with tools, infrastructure and education to provide a sustainable way of life for some of the world's poorest community that have suffered deforestation at the hands of the West.
So, if you want to run your business sustainably and at the same time have a positive impact on the lives of some of the world's poorest communities, for generations to come, then RED2GREEN is for you.
Why choose REDBOX Group? To their clients they are more than suppliers, they are partners.
REDBOX Group helps their clients derive greater value from their indirect spend by delivering truly personalised services that address their specific needs. The service is perfectly tailored to each client and the projects they undertake with them. Sometimes this means that brands across the group craft bespoke solutions as one seamless experience. At other times, one team takes a single project from concept to completion.
REDBOX never approach a project with a solution in mind. Instead, they take the time to listen and understand their clients' needs and find the right balance of products and service for them
The Green Earth Appeal is a Not-For-Profit Social Enterprise, changing lives of some of the planet's poorest communities through tree planting and education, in partnership with the United Nations Environment and with the assistance of companies like yours.
"On the opening day of the United Nations Climate Change Conference in Copenhagen, we are happy to welcome The Green Earth Appeal as a partner to the Billion Tree Campaign. Trees are a legacy for future generations." United Nations Environment – Monday 7th December 2009.
Formed in 2009, The Green Earth Appeal began life as one of only 61 worldwide planting partners of the United Nations' Billion Tree Campaign and is a part of a network of charities and NGOs which has aided thousands of communities in Central America, Africa, and Asia by planting over 15 Billion trees.