Latest News
New Look Midleton Enterprise Park to Attract Businesses
24th June 2021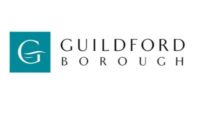 We are attracting new businesses into our borough and helping existing companies to grow by redeveloping Midleton Industrial Estate.
Phase One of the new Midleton Enterprise Park, which includes two high-specification units of just under 10,000 sq ft, is now complete. Phases Two and Three of the Park, which is near Guildford Business Park, are due to be completed in the autumn, with some of these units already under offer.
Lead Councillor for Resources, Tim Anderson, explains:
"Our redevelopment of Midleton Enterprise Park is already a great success. It provides much needed commercial space and, with a range of different sizes of unit available, offers something for every type of business.
"We also wanted to help businesses to tackle Climate Change by improving the energy efficiency and reducing the carbon emissions of the buildings. This will help to extend the lifespan of the units.
"The existing estate, which was mostly built in the 1970s, was in need of regeneration and we are always looking for opportunities to offer excellent facilities for businesses to develop in Guildford. With many of the current leases expiring or due to expire, we have brought forward the redevelopment and look forward to welcoming new businesses to the town."
Two semi-detached warehouse units have already been let to flooring company Havwoods Accessories Limited, as we welcome them to Guildford. The units also have office space on the first floor, with parking at the front and rear, plus a number of charging points for electric vehicles.
Phases Two and Three are a new development of 15 terrace industrial or warehouse units which range from 800-6,000 sq ft. Most of the units have first floor offices. There is parking with electric vehicle charging points, and some spaces are allocated to specific units. The development is designed to be energy efficient and will include solar panels. To find out more about these units visit the Midleton Enterprise Park website.
Planning permission has been obtained for Phase Four, which will offer a further 20 industrial units with car and bicycle parking following the demolition of the existing buildings.
In accordance with our Asset Management Framework, we are proactively looking for asset management opportunities to increase both the value and rental income of our property.