Latest News
Lee Miller: Picasso Portraits and Four Days with Picasso
18th January 2018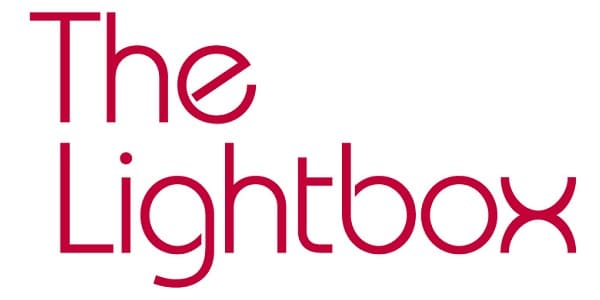 From April 2018, two photography exhibitions at The Lightbox gallery and museum in Woking will display a rarely-seen, carefree side to the iconic artist, Pablo Picasso. In the Upper Gallery, Lee Miller: Picasso Portraits will depict Picasso enjoying the company of a lifelong friend, while a fascinating selection of never-before-seen photographs will show the artist on holiday in Four Days with Picasso, in the Art Fund Prize Gallery.
Lee Miller: Picasso Portraits (14 April – 17 June 2018) will consist of thirty portrait images of Picasso taken over a period of over three decades by Lee Miller, American model, turned Surrealist photographer. Miller first met Picasso around 1929 but their friendship really began from 1937 onwards when they became romantically linked and Miller became a temporary muse for Picasso. Their friendship was to endure until the artist's death in 1973 and Miller's husband, Roland Penrose, became a champion of Picasso's work.
Picasso is often presented in photographs as a somewhat fearsome figure, his fierce stare was famous. However, many of the images selected for the exhibition have been chosen for their easy intimacy; portraits of off-duty Picasso, less work – more play. Miller got the sort of access only close friends and confidants ever get, the photographs show that Picasso was entirely comfortable and fully trusted her.
Also included in the exhibition are shots of Picasso's famously chaotically messy studios, portraits alongside other artist friends and holiday snaps.
Alongside this, Four Days with Picasso (10 – 29 April 2018) tells the remarkable story of a chance encounter on the beach of Antibes, France in the summer of 1954, between the amateur British photographer Stanley Stanley and Picasso. The two men hit it off and Picasso invited Stanley to spend time at his nearby villa.
Stanley spent several days with Picasso, his family and circle of friends, and during this period the artist allowed Stanley to record the visit in a series of photographs. What resulted was a sequence of images which are magical in their informality and which are being publicly displayed for the first time in this exhibition.
These exhibitions will be running to complement the Main Gallery exhibition Picasso: Paper and Clay (17 March – 24 June 2018), celebrating 70 years of Picasso's work, showcasing his boundary-pushing creativity in drawing, printmaking and ceramics.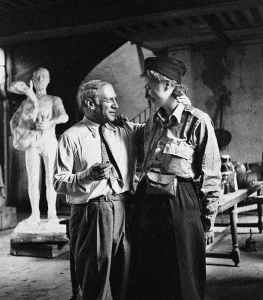 Lee Miller and Picasso in his studio, Liberation of Paris, Rue des Grands-Augustins Paris, France, 1944 by Lee Miller © Lee Miller Archives, England 2018. All rights reserved. leemiller.co.uk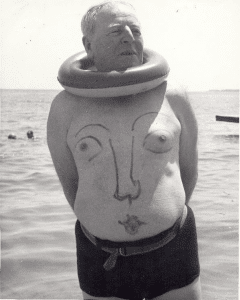 Ernst Asher with a Picasso drawing, c. 1955 © Stanley Stanley