Latest News
Guildford awakens from lockdown with strong visitor numbers
29th April 2021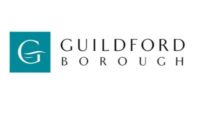 April 12th marked the first major step towards the easing of Covid-19 restrictions on UK high streets, with the re-opening of non-essential shops, gyms, hairdressers and beauty salons, along with outdoor drinking and dining in pubs, restaurants, cafes and bars.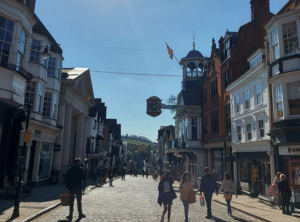 An eagerly awaited date for the whole population, and one that spurred Guildford residents and visitors back into action to enjoy the town that they had all missed so much.
Footfall figures for the week commencing 12th April corroborated this excitement, with close to 300,000 visitors logged in the town. 'Freedom Monday' was the town's busiest day of the week, with customers braving weather conditions ranging from snow to sunshine in a bid to hit their favourite store and restaurant or grab a much-needed haircut. Overall, the week enjoyed a 42% increase in footfall compared with 2019 figures, the last recorded full year of 'normal' trading conditions. This compares to a general decline of 11% across the South East and 31% across the UK within the same period.
Sunday saw the highest increase in visitors compared to 2019, with a 323% increase in footfall recorded compared to 2019.
Commenting on the success of their first 'back to business' week, Debbie Vucicevic, front of house manager at John Carne Hairdressing says;
"The buzz in the salon since reopening on 12th April has been wonderful and the appreciation and feedback from our clients has been very well received by all. Our clients have been both excited and appreciative of their hair appointments.  It has become apparent throughout the pandemic that hairdressers are fundamental to our well-being and emotional health. We're delighted to have our team back reunited in the salon."
Claire Suggitt, Centre Manager at Tunsgate Quarter says;
"It feels a bit like Christmas out there; people are happy and excited to be out. Their shopping behaviour has changed a little – there's less browsing and more targeted shopping, but we are all very excited to welcome our customers back. The team at Tunsgate Quarter has worked hard to create a safe environment to visit and we're doing all we can to provide a safe and positive retail experience."
Baptiste Potier of Peak Performance says;
"The first two weeks of trading have been a great opportunity to reacquaint with our customers, and it's been wonderful to see people so happy to be able to shop again; revisiting their favourite stores and enjoying our high street. Building strong customer relationships is vital for us, so it's really important that we demonstrate to our customers that we've re-opened with their continued safety in mind."
Amanda Masters, CEO of Experience Guildford adds;
"It's incredible to see our town come back to life after lockdown and to see the immense support offered to our businesses by residents and visitors. Never before have we appreciated our towns so much, not just for the shops and services that they offer, but also the human and social interaction they give, and sense of connectedness that we all now truly appreciate is integral to our wellbeing.
"Our businesses have worked tirelessly to ensure that they can open safely on the 12th April, helping reinforce the positive message that we can all work together to get our lives back on track. From the cafes and restaurants, shops and salons, every consideration has been made to ensure and communicate that Guildford is back open for business and a safe place to visit.
"We're encouraging visitors to recognise and support this commitment, urging all to work with us to uphold our 'Be Cautious, Be Calm, Be Kind' campaign, as we travel down Boris's roadmap to recovery."
With attention now focussed on the next restriction lifting date of 17th May, and the end-goal of 21st June 'business as normal' date in our sites, Experience Guildford is busily working with key town centre partners to prepare a range of activities to celebrate the return of life on our high streets and enjoy the summer in Guildford.
Amanda says;
"There's an incredibly positive vibe both within and towards our town at the moment and an opportunity to really bring our community back together. We've seen increased interest from businesses wanting to open up in the town, and are delighted to welcome Master Colourists salon and the new Jacks of London barbers to Constitution Hall, Rituals and Posh Pawn on the High Street and Oishii to Friary Street – to name just a few of the businesses that have opened up during lockdown.
"We're also pleased to announce that we're continuing with the roll-out of our Mi Rewards programme, a simple loyalty scheme that allows consumers to generate bonus points through every purchase they make at Guildford participating businesses and be entered into a monthly prize draw to win vouchers to spend in the town."
Dawn Hudd, Strategic Services Director at Guildford Borough Council continues;
"It is fantastic to see life and vibrancy returning to our historic town centre with many people once again enjoying our shops, cafes, restaurants and salons. We have been working with Experience Guildford and other town centre partners to create a safe place to shop, eat and drink supporting everyone's enjoyment at being back in Guildford. We fully understand what a difficult year it has been for many of our local businesses and we have been supporting them by providing over £40 million in grants.
"Although government restrictions are easing, it is still important to follow guidance and continue to be considerate to one another by wearing a face covering when necessary, socially distancing and regularly washing and sanitizing your hands."
For more information on the re-opening plans in Guildford and how you can support the town's businesses, including detail of the Mi Rewards scheme, visit www.experienceguildford.com