Latest News
CREST22 Surrey's only green business awards launches for second year
4th February 2022

CREST Business Awards, Surrey's only green business awards, launched for their second year as it became open to entry nominations for CREST22 at an event at the Lightbox in Woking.
The awards are aimed at promoting sustainability and environmentally responsible practices in business based or operating in the Surrey area.
The 2022 launch on Monday brought together some of the key stakeholders in a programme that has become a showcase for business sustainability in Surrey as part of Headline Sponsor, Surrey County Council's Climate Change Delivery Plan.
Sponsors who attended included the WWF UK, Surrey Chamber of Commerce and Holdsway and supporters such as Woking's MP Jonathan Lord and Deputy Mayor Cllr Saj Hussain as well as Francesca Castelo, Policy Officer (Economy and Innovation) Strategy and Communications For Guildford Borough Council.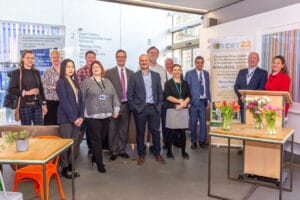 The awards were initiated by the Woking News & Mail working in association with the University of Surrey's Centre for the Environment and Sustainability, and had to be postponed in 2020 because of COVID restrictions before going ahead in 2021 as a hybrid
Professor Richard Murphy, CES Programme Director, was one of the speakers at the event and he praised the awards for helping to provide hands on experience for young people in the field of sustainable business, "At CES we are really keen about practical learning, we learn by doing."
Spokesperson for Surrey County Council, Cat Halter, highlighted the importance of initiatives like the CREST Awards, and of business in general, in limiting the effects of the climate crisis, saying: "Business is so essential to providing sustainable goods and services, that not only help people make sustainable choices, but also has a really massive impact on the supply chain which effects emissions outside of Surrey."
Prof. Murphy agreed that sustainability has come to the forefront of the public awareness in recent years, saying: "I don't think there has ever been a better time for doing serious, hands-on stuff in this area (of sustainability)."
"What people want to know is how to do it and how to do it well, and I think these examples from CREST are just the perfect way of being able to show it to everybody."
Commenting on the awards after the launch, Jonathan Lord said: "As MP for Woking, I'm extremely proud that Woking has played such a proactive role in the awards, but it's great to see businesses from across the whole of Surrey getting involved and getting such prominent support from CES and Surrey County Council"
Entries for the awards are open now and free to all Surrey businesses, find out more at https://crestawardssurrey.co.uk/crest22-applications/.