Latest News
Celebrating Guildford's Innovation Leaders
5th December 2018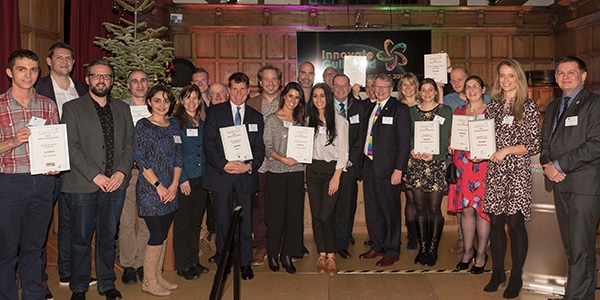 Dynamic advances across a spectrum of sectors from technology to sustainability were celebrated at Guildford's Innovation Awards at the Guildhall last night.
Showcasing the very best in technology and talent from businesses throughout the borough, the annual award ceremony serves as a forerunner to our free science and arts festival 'Innovate Guildford' for residents and visitors at G Live on 23 March 2019. The awards were open to individuals, social enterprises and businesses.
Lead Councillor for Innovation and Transformation, Cllr Gordon Jackson, who founded the awards during his mayoral year, says: "I'm thrilled that Guildford has so many leaders of innovation in such a variety of industries. Many thanks to all of those who entered. The calibre and invention behind each of the entries will make a major contribution to tomorrow's world, underlining Guildford's position at the leading edge of innovation. I look forward with anticipation to following the inspirational future developments in all of these fields. Guildford is one of the most vibrant towns in the South East, featuring regularly in the top five of various economic league tables particularly around innovation, entrepreneurship, access to investment and the number of start-up businesses. Innovation and digital make 'smart' towns and cities which means prosperity, now and for future generations. Inspiring and exciting developments are happening in Guildford every day."
Lead Councillor for Enterprise and Economic Development, Cllr David Bilbe adds: "The economy has grown from one with a relatively high public sector and manufacturing element to one with a much higher proportion of high growth sectors such as gaming, cyber security, life sciences and telecoms. With further growth in professional services, legal, tourism, and food and drink. The total number of jobs in the borough stands at just over 70,000 with a total of 7,440 businesses. Productivity, often measured based on GVA per head, is £36,165 which is above the UK and Surrey average. Rural enterprise and communities also continue to evolve and some 25% of all local jobs are located in our rural wards."
Managing Director of the Council, James Whiteman also attended the awards, along with senior business leaders, the University of Surrey, sponsors and entrants in each award category.
Award winners in each category:
Innovation in Retail – sponsored by Experience Guildford
WINNER: SaidSo
Sustainability Award – sponsored by Dunsfold Park
WINNER: Smart Separations
Innovation in Healthcare – sponsored by Whiteley Clinics
WINNER: Human – True Invivo
WINNER: Animal – The Pirbright Institute
Innovation in the Voluntary Sector and Corporate Social Responsibility – sponsored by Guildford Borough Council
WINNER: Streeva
Innovation in the Creative Industries Sector – sponsored by Charles Russell Speechlys
WINNER: Media Molecule
Emerging Technologies – sponsored by InterFocus, Presented by Guildford Borough Council (Interfocus aren't coming)
WINNER: University of Surrey
Young Business of the Year – sponsored by University of Surrey Student Enterprise
WINNER: B4SH
Young Innovator of the Year (25 and under) – sponsored by Gold-i
WINNER: Ben Luxmore
Most outstanding innovation – sponsored by Kyan
WINNER: Surrey & Borders Partnership NHS Foundation
For more information, visit: www.guildford.gov.uk/innovationawards
For details of the free Innovate Guildford Festival, on 23 March 2019 at G Live, visit www.innovateguildford.co.uk