Coronavirus Hub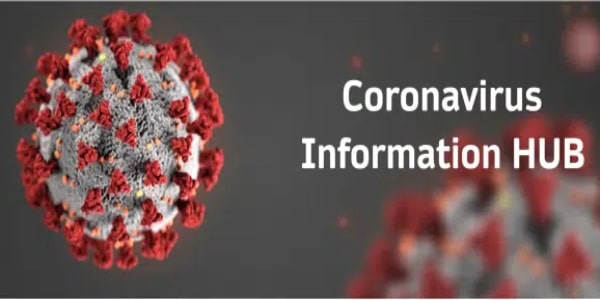 LATEST COVID RULES (announced 21st Feb 2022)
From 21st February the Government is:  
Removing the guidance for staff and students in most education and childcare settings to undertake twice weekly asymptomatic testing.
From 24th February the Government will:
Remove the legal requirement to self-isolate following a positive test. Adults and children who test positive will continue to be advised to stay at home and avoid contact with other people for at least 5 full days and then continue to follow the guidance until they have received 2 negative test results on consecutive days.
No longer ask fully vaccinated close contacts and those aged under 18 to test daily for 7 days and remove the legal requirement for close contacts who are not fully vaccinated to self-isolate.
End self-isolation support payments, national funding for practical support and the medicine delivery service will no longer be available.
End routine contact tracing. Contacts will no longer be required to self-isolate or advised to take daily tests.
End the legal obligation for individuals to tell their employers when they are required to self-isolate.
Revoke The Health Protection (Coronavirus, Restrictions) (England) (No. 3) Regulations.
From 24th March, the Government will:
Remove the COVID-19 provisions within the Statutory Sick Pay and Employment and Support Allowance regulations.
From 1st April, the Government will:  
Remove the current guidance on voluntary COVID-status certification in domestic settings and no longer recommend that certain venues use the NHS COVID Pass.
Update guidance setting out the ongoing steps that people with COVID-19 should take to minimise contact with other people. This will align with the changes to testing.
No longer provide free universal symptomatic and asymptomatic testing for the general public in England.
Consolidate guidance to the public and businesses, in line with public health advice.
Remove the health and safety requirement for every employer to explicitly consider COVID-19 in their risk assessments.
Replace the existing set of 'Working Safely' guidance with new public health guidance.
Full Document here – https://assets.publishing.service.gov.uk/government/uploads/system/uploads/attachment_data/file/1056202/COVID-19_Response_-_Living_with_COVID-19__1_.pdf
Hot off the press, please follow the attached link to see all that's available on the new Covid Support schemes (grants, and statutory sick pay rebates).
https://www.gov.uk/government/publications/covid-19-economic-support-package
Following the announcement from the Chancellor, Rishi Sunak, of £1bn in support for businesses impacted by recent Omicron-related measures, the Treasury has published factsheets on the business grants and on the statutory sick pay announcements – links below.
Statutory Sick Pay Rebate scheme (SSPRS)
Business Q&A around change in self-isolation rules
Q: Can my employer require proof of my vaccination status?
A: COVID status is special category data, as it is your private health information. Your employer's reason for checking or recording your COVID status must be clear, necessary and transparent. If they cannot specify a use for this information and are recording it on a 'just in case' basis, or if they can achieve their goal without collecting this data, they are unlikely to be able to justify asking for it.
Q: As an employer, do I have to check my workers' vaccination status?
A: No, they must let you know if they are legally required to self-isolate. They can be fined if they fail to do this. If they are exempt from self-isolation as a contact because they are fully vaccinated, then no action is needed. Employers are not expected to check their workers' vaccination status. However, if a worker informs you that they are under a legal duty to self-isolate, then you must not ask them to come into work.
Q: How do I know if someone I employ is exempt from self-isolation if I can't check their vaccination status?
A: It is up to workers to inform their employers if they are under a legal duty to self-isolate. If they fail to do so – including falsely claiming they are not required to self-isolate – then they can be fined. They may also be subject to your usual disciplinary processes.
Q: If I am exempt from self-isolation, can I still choose to do so?
A: Individuals who are fully vaccinated can still choose to self-isolate if they have close contact with a positive case. However, you will not necessarily be eligible for financial (such as statutory sick pay) or practical support while self-isolating. If you are employed, then depending on the specific circumstances, your employer may require you to continue to come into work if you are exempt from self-isolation.
Q: Can my employer force me to come into work if I am exempt from self-isolation?
A: If you are not legally required to self-isolate, then your employer may require you to continue to come into work, depending on specific circumstances.
It is a confusing landscape out there for businesses at the moment with regards to Grants which are available through Local Authorities, various tiered restrictions has meant that Councils are having to process Local Restrictions Support Grants based on multiple factors.Business Grants
Full details of the grants can be found here https://www.gov.uk/government/publications/local-restrictions-support-grants-lrsg-and-additional-restrictions-grant-arg-guidance-for-local-authorities
Key points:
Local restriction Support Grants (Closed) – please note this is the title of the grant, the grant is not closed to applications – is available to businesses who pay business rates and have been mandated to close as per the governments announcement on the 4th January and previous Tiered level restrictions. Payments can be made to businesses mandated to close however have chosen to operate a click and collect or take away service. Most require an application to receive the first payment.
Local Restrictions Support Grant (Open) – Again the title of the grant – is a discretionary grant however due to Lockdown, is currently closed to applications
Wet Pub Grants are being paid to pubs who do not serve food and therefore cannot benefit through operating as a take away during lock down
Additional Restrictions Grants – These are fully discretionary and each local authority has the authority to determine its own criteria, please refer directly to your local authority where you pay your business rates, or where you pay council tax if you work from a residential property. Please visit your local authority's website in the first instance.
Latest Support from Borough and District Councils
Guildford borough council covid business development grants scheme 2021/22 Guidance notes: Covid Business Development Grant Scheme Guidance
Other Government Support and Information
For health information and advice, go to the NHS's coronavirus pages by clicking the image below. 
Health & Wellbeing
After lockdown, financial pressure, job losses and isolation, Surrey County Council Public Health Team Have a range of support to help those struggling with their mental health, including their Surrey Release the Pressure Campaign: https://www.healthysurrey.org.uk/mental-wellbeing/adults/release-the-pressure.  There is also a Stay Alive app that you can download.
Other areas of support include:
COVID-19 :  Healthy Surrey has a section on COVID-19 and looking after your mental wellbeing. The link is:https://www.healthysurrey.org.uk/mental-wellbeing/adults
Mental Health Crisis: https://www.healthysurrey.org.uk/mental-wellbeing/adults/crisis
Bereavement and grief: If people have sadly been bereaved there is support available from CRUSE:https://www.cruse.org.uk/get-help/coronavirus-dealing-bereavement-and-grief
If you are struggling with your mental health, please seek help and talk to a professional.
Together we will get through this!
Surrey Chambers of Commerce exists to connect, support, promote and represent their members within the Surrey business community and have been doing so for 25 years.
During this unprecedented crisis, the services and support that we provide to our members have not changed from the standard level expected from our Chamber members.
We will keep you up to date on business support available for you, we will shout as loud as necessary to government about your challenges and we will continue to promote you to each other.
As with every business, we are making the necessary adjustments to make sure that we can continue to provide support in a safe and secure environment for our team and our members.
Our top priorities to the Surrey business community are:
To collate all information and guidance from government and other sources and disseminate this to the wider Surrey business community, providing impartial and useful guidance that businesses can trust.
To listen to business concerns and feedback and where necessary, raise the concern/feedback with the UK government through the British Chambers of Commerce.
Push the UK government to provide the required support for businesses no matter their size or sector in a timely manner.
Provide support to our local authorities in promoting their services and support for businesses based within their area and working with them to make sure their messages are reached by the business community.
Provide our 4 values to our members in promoting, connecting, supporting, and representing them through these difficult times.
Continue to provide support and services to businesses trading internationally.
To support businesses once the lockdown restrictions have been relaxed to reactivate the Surrey economy.
Thank you to all those who contributed to our 3rd 'Impact of COVID-19 on businesses in Surrey' Survey – you can find the results of the survey here: Analysis of 3rd Survey
---
Representing the Surrey Business Community  Section 1
As an accredited Chamber to the British Chambers of Commerce (BCC), we can feed business views, needs and challenges directly to the heart of governments, both in the UK and overseas. 
The BCC is in regular communication with the UK government during the COVID-19 pandemic raising issues that businesses are struggling with as a result of the COVID-19 pandemic or have issues that have not been covered by recent announcements. 
It is important that we feedback your experiences, positive or negative, back to the government when applying for any of the government-supported grants and loans on offer during the Coronavirus outbreak. 
If you require any information or wish to feedback your issues/experiences please email   gary.hayes@surrey-chambers.co.uk  or  louise.punter@surrey-chambers.co.uk 
---
Supporting the Surrey Business Community  Section 2
UK Government
As the Coronavirus continues to impact the operations of businesses, the information below will inform you about the steps that businesses can implement to minimise the impact on their business and what support is available from the UK government.
It is recommended that  ALL  businesses use the official Business Support Finder from the UK government which can be found  here.
You can keep up-to-date with the latest support from government  here.
You can get answers to business questions via the government helpline, Monday to Friday, from 9am to 6pm – 0300 456 3565.
British Chambers of Commerce
The British Chambers of Commerce has useful information and guidance on their website.
Support from Business Representative Organisations and Trade Associations
Surrey is covered by two Local Enterprise Partnerships (LEPs) and both have further advice, information, and grants on their website.
Enterprise M3  Growth Hub (covers West Surrey/Hampshire)
Coast2Capital  Growth Hub (covers East Surrey/Sussex)
Other Business Representative Organisations and Trade Associations 
You can find additional support based on your industry/sector  here. 
---
Overview of Government support available to businesses  Section 3
Your responsibilities as an employer
Managing your business during coronavirus