The Compass: Navigating Business Leadership and Beyond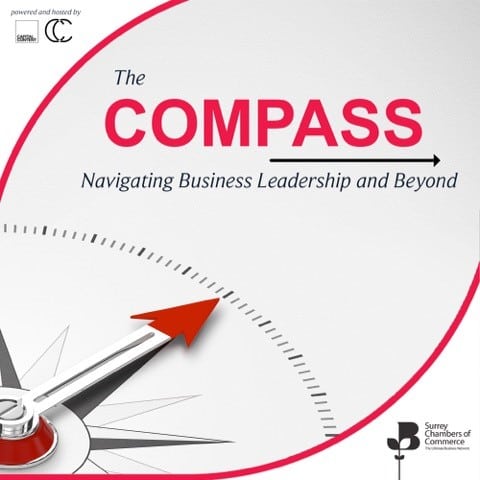 Welcome to "The Compass: Navigating Business Leadership and Beyond," a podcast where we shed light on the realities of running a business today, beyond profit margins and balance sheets. This thought-provoking series is powered by Capital Content, a leader in content creation, and brought to you by the Surrey Chambers of Commerce, a trusted partner and voice for businesses and Carver Coaching, Team & Leadership Development Experts.
Join your hosts, Lisa from Carver Coaching and Gary from Capital Content, as they guide you through the multifaceted challenges and triumphs encountered in running an organisation today.  Each episode delves into a myriad of topics, from achieving work-life balance and managing mental health to fostering a sense of belonging in your team and navigating the challenges of neurodiversity in today's organisations.
Our guests, drawn from diverse sectors of the vibrant Surrey business community, share their experiences of weathering the storm of running a business amidst the rising cost of living, juggling dual careers with family life, and managing team dynamics in the face of adversity. Hear from women entrepreneurs breaking barriers and challenging biases in business, and gain insights into creating an atmosphere where great employees want to stay and grow.
"The Compass" is more than a podcast; it's a platform for stories, vulnerability and difficult conversations.  It offers micro-learning on a myriad of topics.  Whether you're adjusting to hybrid working, dealing with anxiety in your team, or striving to create trust within your workforce, Gary, Lisa and their guests offer insightful guidance, practical advice, and heartening stories to help you navigate these waters and create high performance, happy teams.
Join us for "The Compass: Navigating Business Leadership and Beyond," as we go beyond traditional business discourse to explore the human side of running a business. Whether you're an experienced entrepreneur, running a division in a large employer or just starting your journey, we're here to offer you the best chance to thrive and prosper​.
If you would like to discuss a topic please contact laura.sweetman@surrey-chambers.co.uk or compete this short form