Start-Up Academy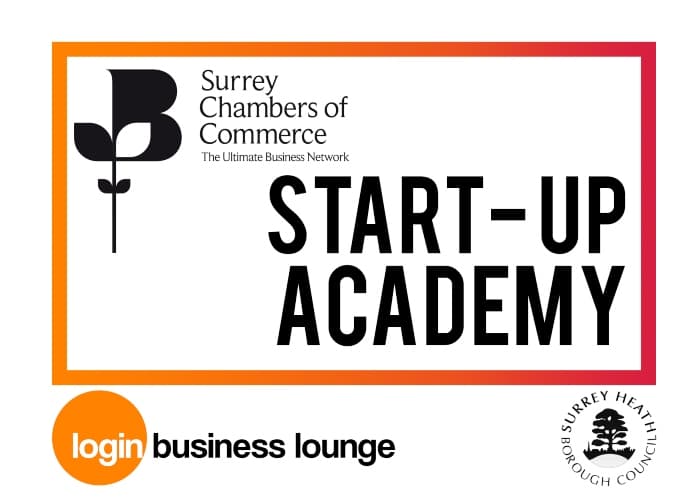 Is it lonely running your business?
Are there some areas you need help with?
We are delighted to be recruiting for the third cohort of our Start-Up Academy, an initiative in partnership with Login Business Lounge and Surrey Heath Borough Council.
After two successful years of the academy, we are delighted to be offering this support once again to local start-ups, using the resource of our wonderful members to put together a term of educational sessions offering businesses advice, support, and an insight into the fundamentals of starting a business, along with the support of their fellow peers along the way.
Although the world has opened up again and we have all learnt to adapt tow their business. By utilising the expertise of our members, we can ensure that they will receive the beo the 'new normal', it is sometimes still a challenge for those who wish to seek support for their business. By becoming a member of the Academy, our delegates can work alongside their peer group and grst advice and resources needed to develop their business and increase their network The 2022/2023 Academy sessions will take place once a month from September followed by a celebratory graduation ceremony.
WHERE WILL THE ACADEMY BE HELD
Login Business Lounge, 34 Park Street, Camberley, GU15 3PL
PARKING
Atrium Carpark, 76 Park St, Camberley GU15 3EY
WHAT NEXT?
Complete and return our application form – delegates for the next Academy cohort will be notified by email.
HOW TO SIGN-UP
For further information, please contact hannah.joslyn@surrey-chambers.co.uk or call 01483 735540
AGENDA
7th September 2022: Business Planning, Strategy and Setting Objectives by Tony Lynch – Keep Thinking Big
19th October 2022:  Sales and Negotiation Skills  by Alex Rodrigues – Sandler Training
2nd November 2022: The lessons the pandemic taught us about digitising our business workflows by Sigal Kellerman – CM System Designs
7th December 2022: Social Butterfly: How To Master Social Media by Jonathan Bird – Delivered Social
11th January 2023 – Priority Management by Richard Maybury – Richard Maybury's Attitude Solutions
8th February 2023: Budgeting and Sourcing Funds by Daniel Morgan – Haines Watts
1st March 2023: HR & Compliance: What You Need To Know by Martine Robins – HR Dept              
5th April 2023: IT & Cyber: How To Keep Your Business Safe Online by Steve Coburn – projectfive
10th May 2023: Green Initiative: Your First Steps to Net Zero by Matt Letley – Impact For Good
7th June 2023: Start-Up Academy Graduation of 2022/2023 cohort
TIMINGS
10:00 – Arrival with networking/tea and coffee
10:30 – Session opens
12:00 – Sessions ends, lunch and networking
Delegates are welcome to stay and work from Login Business Lounge
REQUIREMENTS
Less than 3 years in business
Commitment to attend all sessions
£50 plus VAT commitment fee
TESTIMONIALS
"The Start-Up Academy has given me time out of the day-to-day actions working in the business to focus on learning new skills across all departments of the business – learning from a range of both talented and really friendly experts.  It has been great to network with other start-ups going through the same thing.  Spending time working on the business and collecting a diverse range of expert knowledge is essential preparation for the next step in my business success." Sebastian Elwell FPFS TEP – Founder Switchfoot Wealth Limited
"I wish to thank Hannah, the Surrey Chamber of Commerce, the array of wonderful instructors, and my classmates to make this a wonderful and educational course. I learned a lot and made friends. I hope we can all stay in touch and update one another on how we are progressing in our work"
Nasim – Company not yet started
"The Surrey Start Up Academy has helped me channel my energy and given me the focus I need to make my business successful. I have been trading for two years, most work is through word of mouth and referrals, I joined as I was looking to scale the business up. The wide range of speakers at the academy provided insight into all the important subjects a start-up needs to know. It has bene great networking, I have made some really good connections and friends, and since have joined the Chambers to continue the path to success"
Sanjay Limbachya – SJL Consultancy
If you would like to learn more about the Start-Up Academy or would like to sign up, please contact hannah.joslyn@surrey-chambers.co.uk