Start-Up Academy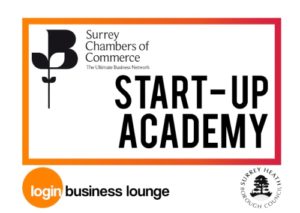 Is it lonely running your business?
Are there some areas you need help with?
After the success of last year's Start-Up Academy, Surrey Chambers, in partnership with Login Business Lounge, and Surrey Heath Borough Council, are delighted to announce the return of our Start-Up Academy for 2021.
This last year has been a challenge for many businesses, and we understand the importance of having support as a business owner.
By becoming a member of the Academy, you will work alongside your peer group and grow your business. By utilising the expertise within our membership, we ensure that you receive the best advice and resources needed to develop your business and increase your network.
The Academy takes place once a month from September and culminates in a mini celebratory graduation.
Key areas of business will be covered in depth, with informative talks in the morning, followed by an interactive session in the afternoon. Sessions run from 10am – 1.30 pm, you also have the opportunity to work remotely in the Login Business Lounge – a great opportunity to connect and expand your network. 
REQUIREMENTS:
Less than 3 years in business
Commitment to attend all sessions
£40 plus VAT commitment fee
If you would like to learn more about the Start-Up Academy or would like to sign up, please contact hannah.joslyn@surrey-chambers.co.uk
Sponsored by Surrey Heath Borough Council

WHERE WILL THE ACADEMY BE HELD?
Login Business Lounge, 34 Park Street, Camberley, GU15 3PL
PARKING
Atrium Carpark, 76 Park St, Camberley, GU15 3EY
HOW TO SIGN-UP
If you are interested in finding out more about the academy and how to sign up, please contact
hannah.joslyn@surrey-chambers.co.uk  or call 01483 735540 for an expression of interest form. 
AGENDA
06/09/2021: Session 1: Business Planning and Strategy – Delivered by Lee Lam, The UK's Start-up Partner Ltd
04/10/2021: Session 2: Marketing Strategy and social media – Delivered by Jarmila Yu, YUnique Marketing and Kirstin Papworth Smyth, Thunderbolt Digital
01/11/2021: Session 3: budgeting and Sourcing Funds – Delivered by Ian Martin, Enterprise M3
06/12/2021: Session 4:  Building Your Brand – Delivered by Richard Excell, Excell Design
10/01/2022: Session 5: IT and Cyber Security – Delivered by Steve Coburn, Projectfive
07/02/2022: Session 6: Sales Communication and Negotiation – Delivered by Nigel Blake, Perfect Pitch Consultancy
07/03/2022: Session 7: HR and Compliance – Delivered by Chris Taylor, Accelerator-HR Ltd
04/04/2022: Session 8: Business Leadership – Delivered by Jessica Martin, Pro-actions Business Coaching & Support
09/05/2022: Session 9: How to Make Your Business Greener – Delivered by Sarah Jane Chimbwandira, CEO Surrey Wildlife Trust
06/06/2022: Session 10: Graduation
TIMINGS
10:00 – Arrival with networking/tea and coffee
10:30 – Headline speaker opens
11:30 – 12:30 – Networking and Lunch
12:30 – 13:30 – Interactive session
13:30 – Event close/networking
Delegates are welcome to stay on and work from Login Business Lounge
TESTIMONIALS
"The Start-Up Academy has given me time out of the day-to-day actions working in the business to focus on learning new skills across all departments of the business – learning from a range of both talented and really friendly experts.  It has been great to network with other start-ups going through the same thing.  Spending time working on the business and collecting a diverse range of expert knowledge is essential preparation for the next step in my business success."
 Sebastian Elwell FPFS TEP – Founder Switchfoot Wealth Limited
"The Surrey Chambers Start-up Academy has been tremendously helpful in my journey to launch my first start-up business. It has really provided exactly what I needed – an injection of knowledge and inspiration to get me planning out my business and (fingers crossed!) ready to launch before the end of 2021. All of the sessions have been useful, and a lot of work has clearly gone into planning out the sequence of themes/topics to try and cover all the key elements of the business process. For me, the 'strategy and planning' session and the 'branding/creative' session are particular highlights The management of the programme by Jodie and Hannah has been fantastic – great communication and organization – you've really helped to pull us together as a class! Alongside the practical sessions, I have enjoyed the opportunity to meet other budding entrepreneurs in the Surrey region, expanding my support network. Hearing about the business passions and ambitions from the group, and being able to ask for help and receive advice, has been incredibly valuable. All-in-all, I'm loving it – it has been a highlight of my 2020 year, and I'm looking forward to getting my first business launched!"
Benjamin Hook – Founder of Rebellion Chocolate